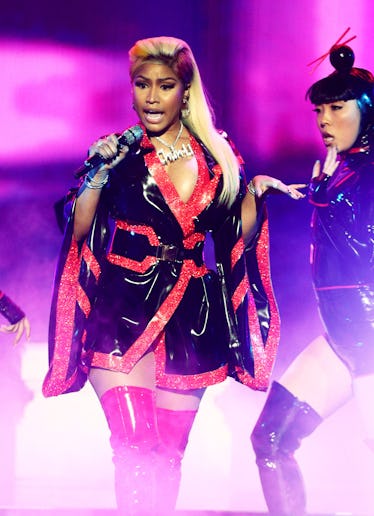 Here's How To Stream Nicki Minaj's 'Queen' Album So Your Ears Can Be Blessed By Her Majesty
Frederick M. Brown/Getty Images Entertainment/Getty Images
The day has arrived, you guys! Nicki Minaj's new album Queen has made its debut, and it is FIRE. Totaling a whopping 19 tracks and 7 glorious collaborations, this album is one for the books, y'all. Now if you've yet to hear the gems off Queen, you need to do two things: stop whatever it is that you're doing, and go stream the damn thing, because you won't regret it. Trust. And if you're not sure just where you can listen, I got you — here's how to stream Nicki Minaj's Queen album, so you can listen to these royally lit songs all day long.
And you literally can listen to it all day, considering just how many tracks there are on the album. Minaj took to Instagram in the early hours of Friday, Aug. 10, to show off the tracklist to her fans. Check out all the songs below, and get super hyped that they'll be in your earbuds soon enough:
Ganja Burns
Majesty (feat. Eminem & Labrinth)
Barbie Dreams
Rich Sex (feat. Lil Wayne)
Hard White
Bed (feat. Ariana Grande)
Thought I Knew You (feat. The Weeknd)
Run & Hide
Chun Swae (fy. Swae Lee)
Chun-Li
LLC
Good Form
Nip Tuck
2 Lit 2 Late Interlude
Come See About Me
Sir (feat. Future)
Miami
Coco Chanel (feat. Foxy Brown)
Inspirations Outro
So where exactly should you go to listen to all of these songs? There are a few different streaming platforms that you can use to get your Nicki fix, so let's go over all of your options, shall we?
Apple Music
If you have an Apple Music account, you're in luck! Queen is available for your listening pleasure. If you don't have an Apple Music account, fret not. You can sign up for a free trial and access the album (and all of the other tunes on Apple Music) totally gratis.
Spotify
Good old Spotify has got your back, people, and Queen is ready for you there, too. The cool thing about Spotify is that your listening experience has limited ads, but if you sign up for their Premium account, you'll get zero interruptions. And, just like Apple Music, you can get yourself a free trial, which is a win-win situation:
Tidal
Are you the hip and cool person in your group? If you are, then chances are that you have a Tidal account. And guess what? You can head over to listen to Queen there as well. Just like all of the other streaming services listed here, you'll need an account if you want to listen to Queen so, make sure you sign up for Tidal's 30-day free trial:
You're welcome.
If you're still not sold on listening to all of Nicki's new music, first of all, who are you? JK, but seriously. This album is actual gold, and these tweets about Queen will make you reconsider that decision ASAP:
OK, fam. Have I changed your mind yet?
Who am I kidding, of course I have. Go get you some Queen now, please and thanks.