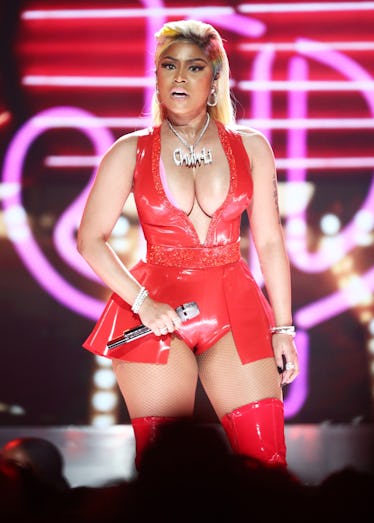 Nicki Minaj's 'Queen' Tracklist Is Here, But It's Missing A Track You Were Expecting
Frederick M. Brown/Getty Images Entertainment/Getty Images
Many critics have been touting Nicki Minaj's new album Queen as her "greatest work to date," so naturally, fans are curious about what exactly is going to be featured on the album. New sounds? New collaborations? A totally different take on rap as a whole? Well, the album is set to drop today and Minaj dropped the album's tracklist on Instagram to celebrate. One look at Nicki Minaj's Queen tracklist shows that the album is full of interesting titles as only Minaj herself could come up with.
So, what does the tracklist look like? Well, there's no song titled "Queen," which is, honestly, kind of surprising (though, I guess the track "Majesty" will have to do). The official tracklist has also revealed is that Minaj collaborated with artists like Eminem, Labrinth, The Weeknd, Future, and Ariana Grande, of course. And those collabs are now some of the most highly-anticipated tracks on the album, especially since "Bed" featuring Ariana Grande is already out and a certified bop.
Check out the tracklist in its whopping 19-track glory:
Ganja Burns
Majesty (feat. Eminem & Labrinth)
Barbie Dreams
Rich Sex (feat. Lil Wayne)
Hard White
Bed (feat. Ariana Grande)
Thought I Knew You (feat. The Weeknd)
Run & Hide
Chun Swae (fy. Swae Lee)
Chun-Li
LLC
Good Form
Nip Tuck
2 Lit 2 Late Interlude
Come See About Me
Sir (feat. Future)
Miami
Coco Chanel (feat. Foxy Brown)
Inspirations Outro
Isn't it so nice to finally see the Queen tracklist in all its glory? Getting to this point was definitely an emotional rollercoaster (which is not a phrase I ever thought I'd use to describe an album release). But the Queen release gave Nicki Minaj fans everywhere emotional whiplash.
The album was originally scheduled to drop on June 15, but it was pushed back to August 10 for reasons unknown to fans. Then, due to some issues clearing a sample on a Queen track, Minaj had to postpone the release again to August 17. Ariana Grande fans were none too pleased about the shift considering Grande's album, Sweetener, was set to drop on the same day. Fans who were worried that the two albums dropping at the same time would negatively affect both albums' streaming numbers took to Twitter to complain and bash Nicki, but Nicki and Ari were having none of it.
Ari took to Twitter to call out her fans for pitting her against her friend and frequent collaborator, writing:
jesus is this what's going on today? imma jus stop logging in at all lmfao. that's my f*cking sister. she's clearing a sample. buy and stream queen & sweetener aug 17 bye. these numbers don't mean as much to the artist as they do to y'all. jus want y'all to listen to the project.
And just to confirm it was all love between the two music icons, Minaj also took to Twitter to express her love for Grande, writing:
I love this woman. Can't wait for the fans to benefit from all the hard work on both ends. We love your passion. You guys will be VERY happy. Trust. That's all I'll say 😉🍵🦄
Well, looks like Nicki really couldn't wait because, with little warning, she pushed Queen's release date back up to Aug. 10, and here we are! I, for one, have no complaints, considering now I don't have to split my listening time between Nicki and Ari. I intend on having Queen on loop all day, y'all!