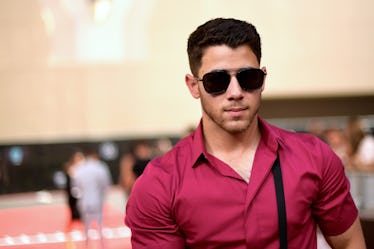 Nick Jonas Rocked The MTV Movie & TV Awards Stage In Some Metallic Pants
Matt Winkelmeyer/Getty Images Entertainment/Getty Images
Just because the MTV Movie & TV Awards aren't focused on music doesn't mean that the network takes musical performances out of the equation. I mean it is MTV after all — so why not throw a couple of live acts into the night's events? One of the performances tonight was particularly special, because Nick Jonas' 2018 MTV Movie & TV Awards performance of his new single "Anywhere" was the live performance debut of the song — and fans were going nuts over it.
The June 18 awards show kicked off on Monday night without a hitch. The host for the night, comedian Tiffany Haddish, was absolutely the perfect choice and kept the audience laughing. I was really excited to see how Haddish would do, but when I knew that Jonas was on the roster to perform his brand new single "Anywhere" for the first time since it dropped tonight, I could not wait to see him get on stage and break it down.
When Jonas finally did claim the stage for the debut performance of the song, the crowd went absolutely wild. Jonas strutted the stage in a leather jacket and metallic pants, and sounded great as her performed his latest hit. Twitter users were freaking out over hearing the song performed live, and I can safely say that I think he definitely lived up to fans' expectations.
Jonas partnered with superstar producer Mustard for the song, which dropped on May 11. The music video for "Anywhere" was released on May 22 via Mustard's YouTube page and has since gained over 2.5 million views. The song has more of a heavy EDM influence when compared to his other songs and albums, so I was curious as to how the live version of his new song would look and feel on a stage. I definitely was not disappointed. I mean, who has ever been disappointed by Jonas in the history of music? No one, that's who. So I knew this performance would be a hit.
The song's message is pretty vague if you just listen to it. But, in my attempt to decipher what the deeper meaning of "Anywhere" might be, I delved into the lyrics, and I've come up with a pretty solid theory, if I do say so myself. The song is about losing love and trying to move on, in a nutshell. "Because I've loved you, yeah / It's not important any longer to me," is one of the phrases that's repeated in the song, which kind of signals that a particular person that Jonas once loved isn't as important anymore. But, also repeated in the song are the lyrics,
I don't know what to do if you're not right beside me / I had to move, but, baby, you know where to find me
Ah, so Jonas had to move on, but this person he's singing about knows exactly where to find him. Could this lucky lady that he's singing to be ex-girlfriend Olivia Culpo, perhaps? Just a couple of weeks ago Us Weekly reported on May 16 that Jonas was trying to get his beauty queen ex back, even though the duo have been broken up since 2016. These reports became public not long after "Anywhere" was released, so this theory is definitely feasible.
So Culpo might be the subject of Jonas' newest single, but it looks like she's definitely not the current leading lady in his life. On May 29 rumors started swirling that Jonas is reportedly dating actress Priyanka Chopra. Very recently, Jonas reportedly took Chopra to a family wedding in New Jersey on June 9, so it appears as though things are getting serious between the two! Elite Daily reached out to Jonas and Chopra's teams for comment on the dating rumors, but did not hear back by the time of publication. New relationships are always exciting, so I'm hoping that if these two are an item, that their romance will inspire some amazing new tracks from Jonas.
Dating rumors aside, "Anywhere" is a seriously amazing new song from Jonas, and his performance at tonight's awards has me excited to see what else the singer's got in store for the future.