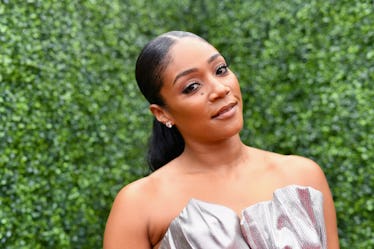 Tiffany Haddish Dressed Up Like A Pregnant Cardi B At The MTV Movie & TV Awards & OMG
Emma McIntyre/Getty Images Entertainment/Getty Images
The MTV Movie and TV Awards are one of the biggest nights in award show entertainment, and nothing makes me more excited then when I find out a comedian is hosting. So, naturally, I was ecstatic to hear that my girl Tiffany Haddish would be taking on the job. Let me tell you, just like I knew it would, Tiffany Haddish's Cardi B impression at the 2018 MTV Movie & TV Awards will have you LOLing.
Haddish had the big job of running the whole show at the MTV Movie & TV Awards on Monday, June 18 (which taped over the weekend), and she did not waste a minute of it. The comedian came out swinging in Cardi B's famous white "pregnancy reveal" dress and parodied "Bodak Yellow." Obviously, Haddish's lyrics were on point. "I don't dance now I make money movies," was a knee-slapper referencing her latest hit Girls Trip, which she was actually nominated for in the Best Comedic Performance category at the night's awards.
I'm telling you, few things are better than watching Haddish spot the snacks in the crowd. And her opening number was, honestly, a love song to Michael B. Jordan. "You so sexy, you can probably look a girl in the eyes and get her pregnant." Hey, Haddish only said what everyone on the room was thinking (Killmonger forever).
In case you weren't watching for some reason, the comedian even managed to find a way to make Nick Jonas hotter. I believe the scene was set with, "Nick Jonas is gonna tear it up with Mustard, which is also how I want him to tear it up with me."
Honestly, Haddish's monologue veered a little into NSFW territory and I did not mind at all.
But it wasn't all about the boys. In probably one of her most clever jokes of the night, Haddish compared the Kardashians to Star Wars. She said,
That family is basically the Star Wars franchise. They make a ton of money, a new one's always popping up, and they're ruled by a bossy overlord who sleeps in a mask and she love black men.
I never noticed it before, but now that it's been pointed out to me, I can't unsee it. Keeping Up with the Kardashians will never be the same.
Haddish did a great job at the 2018 MTV Movie & TV Awards, but she wasn't only there to host. The actress was also nominated for Best Comedic Performance and for Best Scene Stealer for her role in Girls Trip, where she starred alongside heavy hitters Jada Pinkett Smith, Queen Latifah, and Regina Hall. Can I say I think she deserves it?
I've been a big fan of Haddish's standup for a long time, but it's great to see her in the spotlight more. She was racking up roles in Keegan Michael-Key and Jordan Peele's 2016 film Keanu, Girls Trip (of course), then Tracy Morgan's The Last O.G., and Haddish is even co-starring alongside Kevin Hart in the upcoming flick Night School, which is set to premiere in September 2018, so we don't have too much longer to wait to get some more Haddish on our screens. With the rise in popularity Haddish has been getting in the past couple of years, MTV general manager Amy Doyle told Variety that they knew they wanted Haddish to host this year's awards immediately. Doyle said,
We said to each other, 'Ladies and gentlemen, we just found our host.' We actually made her an offer earlier than we have most hosts before because we were just so sure and she is so relevant in pop culture, we did not feel that there was anyone better this year. She was on our shortlist. But after Girls Trip, she went to the top of that shortlist.
They couldn't have picked a better host, and Haddish definitely showed Doyle and the MTV team that they made the right decision. All that's left is for Haddish to agree to go on a girls trip with me. Can anyone help that along? Please and thank you.