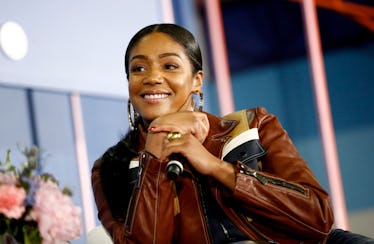 Tiffany Haddish Is Single, But She Made A Pact With Brad Pitt & The Story Is Hilarious
Brian Ach/Getty Images Entertainment/Getty Images
If you're like me, chances are you're in love with Tiffany Haddish. The hilariously funny, super talented rising star is taking over movies, television, and Groupon in a big way and I am here for it. At 38, Haddish is just now hitting her celebrity stride and the world is standing up and paying attention. Some people are probably asking themselves, "Is Tiffany Haddish single?" With the exception of a pact she made with Brad Pitt in an elevator (I'll get to it), the answer is yes! Or at least, I think so!
If Haddish is seeing someone, the public sure doesn't know about it. Based on her track record of spilling tea, something tells me if she were dating someone, her fans would have definitely found out by now. Let's be real. Haddish was the first to spread the word about "an actress" infamously biting Beyoncé's face and the first to throw Will Smith under the Groupon bus. From here, it sounds like she's dished on just about everything except a romantic partner. Hm, hm, hm.
The closest Haddish has come to a love life confession is when she met up with Kelly Ripa at the 2018 Oscars to play a quick game of "Marry, Date, Ditch," in which she had to pull three celebrity suitors out of a bag. You guys know where this is going.
The very first name Haddish pulled was Brad Pitt, and man, did she already have a story ready and waiting. Haddish explained, "I just met him in the elevator! He said in one year, if he's single and I'm single, we gonna do it, so you know what that means..." But, on the turn of a dime, she seemed to think it through further and remembered Brad Pitt comes with a gaggle of children. "He do got seven kids," she said. "I don't know if I could deal with a man that's got that many kids."
The other two names she pulled were George Clooney and Javier Bardem. In classic Haddish style, she spoke her honest truth explaining, "OK, OK, OK. So, I would date Brad Pitt, marry George Clooney, and I would ditch Javier 'cause I don't know who Javier is."
You can't argue with reason, folks.
Haddish also told People magazine that ever since she's shown up in movies, tons of men have started sliding into her DMs. "You know what's crazy? On the social media aspect, all these guys are like, 'I want to marry Tiffany Haddish. In my head, Tiffany Haddish is my wife.' But none of them are making any moves," she said. Haddish added,
I feel like guys, they hit on me but they don't ask me out. They don't ask for my number. And then the ones that do? Those are trolls. I call them boogawolfs. You can see a boogawolf a mile away and you know it's going to be a problem right there.
Alright, so what would it take to be Haddish's lucky man? For her, she wants someone with success and confidence who can still give her all the attention she wants. Nothing unreasonable. Haddish put it: "I'm looking for confidence, a good sense of humor, and responsible. Like, he's got to have a good credit score. That's super important because that's your grown up report card, your credit score."
She added,
He's got to have his own career going. I cannot be the center of his universe. I can be a major part of the universe but I cannot be the center of the universe.
It's totally fine if girls aren't your thing, Tif, but if they are, you can find me in your DMs.
Check out the entire Gen Why series and other videos on Facebook and the Bustle app across Apple TV, Roku, and Amazon Fire TV.