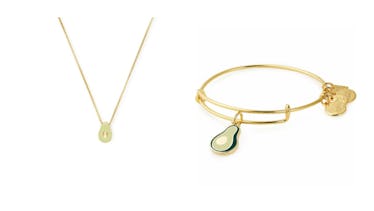 Alex & Ani Is Dropping Avocado Jewelry & It Honestly Looks Good Enough To Eat
Courtesy of Alex and Ani
While you're enjoying your avocado toast and cold brew coffee this morning, take an extra minute to appreciate the wonderfully delicious green mush in front of you. Jul. 31 is National Avocado Day 2018, after all! And what better way to celebrate this wonderful holiday than with some avocado-inspired merch that you can wear well after you finish your meal.
Fresh off the heels of National Tequila Day (there were apropos sneakers for that), National Chicken Wing Day (separate from the also important National Chicken Tender Day), and National Lipstick Day which was obviously an important one, I'd say it's time for the next round of celebratory freebies. For National Avocado Day, Chipotle is giving out free guac, so hurry up and find a franchise near you. If you can't make it today, there's also National Guacamole Day in September, because duh they both deserve their own day, and I bet Chipotle will be pretty generous then, too.
I'm getting ahead of myself, though. Today (Jul. 31, 2018) is National Avocado Day and it pretty much feels like Christmas, Chanukah, and my birthday all wrapped up into one. Not only is the possibility of free guacamole on the table, but there is legitimately cute avocado-themed merch at hand. I'm talking pieces you can wear on any non-avocado-themed day to show your love of the beautiful green fruit (yes, avocado is a fruit – well it's actually technically a berry, but let's get back to this jewelry I just mentioned).
Wow, that avocado looks delicious. But what's that on that girl's wrist? It's an adorable avocado charm bracelet!
Alex and Ani Avocado Charm Bangle
That gilded avocado charm is pure art.
The back of the charm reads "You Guac My World," and there are also two charms with the recycling symbol on them. The reason for those extra baubles is that this bracelet isn't only for fun (although it is fun), but it was made in partnership with an the Green Beetz organization. Green Beets is a non-profit organization that helps to educate about "how food affects our bodies, our communities, and the environment." Alex and Ani will donate 20 percent of the proceeds from this jewelry (with a minimum donation of $25,000) to Green Beetz. So when you order your bracelet, you'll also be helping the planet!
Alex and Ani Avocado Adjustable Necklace
Or maybe you're more of a necklace person? This piece is my personal favorite and it benefits Green Beetz in the same way was the bracelet. And you know what else? IT'S GLOW IN THE DARK. Plus, the chain on the necklace is adjustable so you can wear it with basically any outfit. And I mean, just look at it, it's so cute!
This delectable jewelry has actually been around since April, although I've just caught on about it for National Avocado Day, but Twitter's been excited about it for a while now.
Please don't actually call 911 but I appreciate your enthusiasm.
Heart eyes all the way.
It's come to something very, very wonderful.
I'll take the necklace but basically same.
There's literally been no better time to use the avocado emoji.
Same girl, same.
Doing my avocado happy dance.