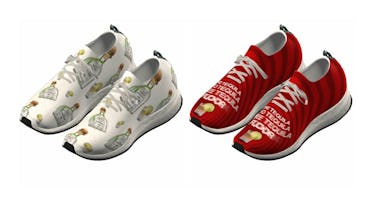 These National Tequila Day Sneakers Mean You Can Have Your Margarita & Wear It Too
You've heard about some of those weird holidays like National Bicycle Day or Eggnog Day, and you probably don't celebrate them at all. There are few truly holy days, however, and one of them is upon us. When is National Tequila Day 2018, you ask? Well, it's July 24, which, depending on when you're reading this, is TODAY!
According to my minimal research on the world wild web, the origins of National Tequila Day are little known, but that's not going to stop me from celebrating. It's important, though, not to get this historic day confused with National Margarita Day, which falls on Feb. 22. I mean, why would you want to limit the number of days and ways you can celebrate this wonderful substance?
There are countless drink specials for National Tequila Day, but I say, why not invest in something that will still show your enthusiasm for the occasion and last you well after. On that note, Skor Shoes, which are known for being über-customizable, have come up with some festive new designs for National Tequila Day. Skor's shoes are always made to order, so what you see doesn't have to be what you get — you can create your own designs! For this high holiday, though, Skor has created some (what I predict will be) super popular new prints and graphics. Take a look!
Red Tequila Sneakers
A wise man once said, "One tequila, two tequila, three tequila, floor." And another wise man (or woman) decided to print that saying on a pair of Skor sneakers.
A little more about these particular shoes: Skor shoes are so unique in that they're made to order. As the site says, "Each shoe is custom printed for you — it doesn't exist until you create it."
Same.
Tequila Essentials Sneakers
Black is probably my favorite color, so this design sticks out to me. No words, just tequila (and salt and lime).
Skor's sneakers are all made with a "high quality, reactive, energy-absorbing, polymer elastomeric foam to provide a bounce you can feel in every step." So whether you're celebrating National Tequila Day with a bar crawl or a dance party, your feet will be comfortable AF all night long. Oh, and the sole of each shoe "is sealed with a skid resistant layer to keep grip in dry, wet and all conditions in between." Translation: When your friends start spilling their margaritas all over the floor, you don't have to worry about slipping in their tequila puddles.
Tequila Connoisseur Sneakers
When I think of tequila, I basically picture a beautiful bottle of Patron, so these are on point.
Tequila Priorities Sneakers
Te amo. Tequila. Can I have both?
You'll also notice that Skor's sneakers don't have a tongue, which the brand says is for a "fashionable, streamlined design." I translate this as less to fumble with after you've had a few margs.
Tequila Advice Sneakers
When life gives you lemons (or limes, or salt), grab tequila! Basically, always grab some tequila.
Now, go forth and celebrate this wonderful day, responsibly of course.
Need I remind you how Luanne from Real Housewives Of New York ended up in the bushes in Mexico?
And how she fell down the stairs (sorry, Luanne)...
Yup, that's how.
Cheers!