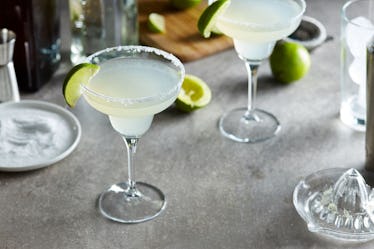 Chili's Has $5 Margaritas To Celebrate National Tequila Day & It's So Easy To Get The Deal
National Tequila Day falls on Tuesday, July 24 this year, and it's one "holiday" that you do not want to miss. The good news for tequila lovers is that there are plenty of tequila-centric deals available to help you celebrate in the best way possible. For tequila fans who most enjoy the hard stuff mixed up in a margarita, you'll definitely want to check out Chili's on National Tequila Day. Here's how to get a $5 margarita at Chili's to have toast to the holiday on a budget (if you're 21 years or older).
According to the official Chili's Facebook page, the chain is offering three different margaritas on its menu for only $5 on Tuesday, July 24, and all you need to do to partake in this cheers-worthy deal is dine in at your local participating Chili's location. In a post to its Facebook page on Saturday, July 21, the brand teased its deal with a video of a delicious looking margarita accompanied by a caption that read,
This Tuesday for National Tequila Day, we're offering not one, but THREE $5 margaritas. Keep your eyes peeled and tag the friend you're taking out for "lunch" that day.
Even though Chili's hasn't yet divulged which three of its margarita flavors you can snag for five bucks on July 24 for National Tequila Day, you can be sure that you'll find a tasty flavor when you dine in on Tuesday.
One flavor that you can count on for $5 is the current flavor of the month: The Firecracker. The red, white, and blue layered frozen sip is July's margarita of the month at Chili's, so that means you can enjoy it for only five bucks all month long. According to a tweet from the official Chili's Twitter account, the sip combines Blue Curacao and Grenadine to give it that patriotic coloring.
Again, Chili's has remained tight-lipped about which flavors will be $5 on July 24 to rightly celebrate National Tequila Day, but you can count on the five-dollar deal on this triple threat all month long.
Chili's has been releasing a new $5 margarita each month since the beginning of 2018, and the flavors have included drinks like February's The Flirt, the spring-perfect The Cherry Blossom in April, and The Trifecta in May that featured three different tequilas in one sip, according to the official Chili's Instagram page.
If the National Tequila Day flavors are anything like the tasty offerings Chili's has been cranking out all year, then I think you're set for a delicious National Tequila Day celebration at Chili's on Tuesday, July 24.
If you're in the mood for some food to go with your delicious $5 margaritas on National Tequila Day, then you'll be happy to hear that Chili's recently brought back its 3 for $10 deal, according to a tweet from the official Chili's Twitter account. Per the Chili's website, you can get a non-alcoholic beverage, an appetizer, and an entree from a select menu for only $10.
Whether you head to Chili's for a quick National Tequila Day happy hour or a dinner full of festivities, you can take choose your favorite margarita from the three $5 flavors for the perfect celebratory sip. Cheers!