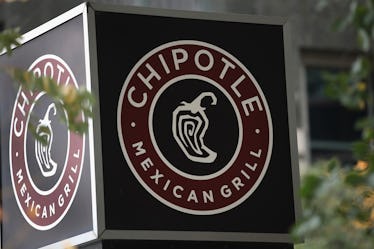 Chipotle Has Free Guac For National Avocado Day, So Dreams Really Do Come True
Scott Olson/Getty Images News/Getty Images
Greetings, fellow earthlings. I come to you bearing some pretty stellar news that you'll definitely want to get in on. Aside from the fact that it's still summer, the sun is shining, and that it's most likely 5 o'clock somewhere, you can also get free guacamole within the next few days. Yes, you heard that correctly, and the best part is that getting some is easy peasy. So, if that that sounds up your alley in the slightest, here's how to get free Chipotle guac in honor of National Avocado Day. You're welcome.
Although a trip to Chipotle never fails to be an undeniably life-changing experience, I have to say, it's pretty devastating to hear that final question before paying for your meal, "Would you like guacamole for an additional charge?" Like... obviously, I want guacamole. No doubt about it. Who in their right mind says "no" to guacamole? However, that small fee truly can be emotionally taxing, even if does cost a mere extra $1.80 (unless you get fajita vegetables, that is). Anyway, if guacamole really is your one and only vice, then you can get it for free by simply trekking to Chipotle on National Avocado Day, which is on Tuesday, July 31, according to a press release. Just create a Chipotle account ahead of time and that magical green stuff is yours, and yours only.
Simply enter your personal contact information to create your Chipotle account online or in the mobile app, according to the release, and then you'll be able to select an entrée and add guac as an add-on, as a side, or simply as a chips-and-guac order. Just make sure to enter the coupon code, AVOCADO. Keep in mind, however, that this tantalizing offer is only redeemable by ordering through your Chipotle account ahead of time. There's also a limit of one free item per customer, and it can't be combined with other coupons, promotions, or special offers.
Chipotle's chief marketing officer, Chris Brandt, said in a press release that he's well aware of Chipotle fans' undying guac obsession, and that he's happy to share the avocado love. Because, really, that's what National Avocado day is all about.
In the release, Brandt said:
Our fresh, homemade guacamole has a massive fan following. We want to show our love for the avocado and reward our customers' guac obsession. Plus, it's a major bonus that you can skip the line when you order ahead with our app or at chipotle.com.
I don't know about you, but I'm never not in the mood for guacamole, especially when it's free. So, if you, too, are looking to get in on that creamy green stuff next week, take my hand, and let's all go to Chipotle land. It literally takes less than five minutes to download the Chipotle app and place an order. So, if you forgo taking advantage of this opportunity, I seriously don't think we can be friends. Sorry not sorry, but guac always comes first.