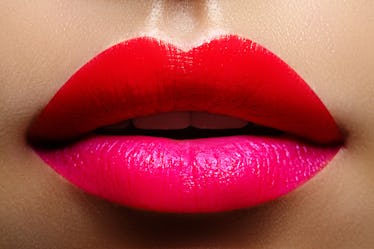 10 Incredible National Lipstick Day Sales That'll Make Your Pout Look On-Point
Fotolia
Forget everything you thought you knew about "Christmas in July." The real jolly holiday that happens in the middle of summer is National Lipstick Day. This day that beauty lovers look forward to all year is just around the corner on Sunday, July 29. While the holiday doesn't include Santa Claus coming down your chimney or baking Christmas cookies, it does mean that some major beauty brands are offering promotions, discounts, and even freebies on arguably one of the most important makeup products in anyone's kit: lipstick, duh.
Whether you're a 50 shades of nude kinda girl or you're all about that bold red lip, some of your favorite brands have incredible sales in honor of the holiday, meaning you'll be able to score your favorite colors and styles for cheap (or, well, cheaper). But before you just dive in head first, you have to go in prepared. Why celebrate this holiday by accidentally buying a full-price lipstick because you weren't aware of a sale? Read on to find out what deals you're going to want to take advantage of come July 29, so you can expand your lipstick collection and play up your pout.
Believe it or not, for this year's celebration of National Lipstick Day, MAC will offer a free full-size lipstick (an $18.50 value) in their stores on July 29. Yes, they mean free: No purchase is necessary. You'll just want to make sure to get to your nearest MAC store or counter early, as supplies are limited and are expected to run out fast, (Duh, because who wouldn't want a free MAC lippie?)
The freebies are available in nine different shades: Aloof, Delish, Dare You, Moxie, Florabundi, Epic, Mixed Media, Chintz, and Tanarama. BUT, if standing in line isn't your thing, MAC is also offering free lipstick in the same shades with online orders of $25 or more. This offer is also only available while supplies last and includes free shipping. So hop on it, folks!
Lawless Beauty is offering 50 percent off of all 11 of their liquid lipsticks, so you can score these long-wear lippies for under $15. From metallic nudes to baby pinks to deep, rich red hues, you'll be sure to find your perfect shade.
You'll be able to cop a free cult-favorite Stila Stay All Day Liquid Lipstick with the purchase of one on National Lipstick Day. ICYMI, fan-favorite Congressional candidate Alexandria Ocasio-Cortez swears by Stay All Day in "Beso."
Your fave nude lip pencils are offering two specials in honor of National Lipstick Day: If you spend $25 or more on Nudestix merch at Ulta on July 29, you'll receive a free full-size Intense Matte Lip + Cheek Pencil in "Royal." Then, if you take your shopping to Nudestix.com, you'll earn double rewards points with any purchase.
In celebration of National Lipstick Day, Anastasia Beverly Hills is offering a BOGO sale on their lip glosses, liquid lipsticks, and matte lipstick collections, so you can expand your lippie collection to the high heavens. (No, really, ABH has a pretty extensive range of lip products, so uh, good luck choosing!)
If you're a natural beauty product lover, then you'll have no problem taking part in 100% Pure's National Lipstick Day promo. If you spend $100 or more on the brand's website, then you'll get a free lipstick of your choice using the code "LIPSTICK." All of 100% Pure's lippies are formulated with nourishing properties like cocoa butter, shea butter, and vitamin E to deeply moisturize your pout while providing intensely rich color from fruit extracts.
If you're looking to add some color to your pout using a crayon, C'est Moi is offering 20 percent off their Luminary Lip Crayons, so you'll be able to cop one of the velvety formulas for only $8 each.
On National Lipstick Day, if you purchase Milani's new Eyeshadow Palettes in Soft & Sultry or Pure Passion, you'll get a complimentary Color Statement Matte Lipstick in "Matte Naked." That way, you'll basically have your whole face covered.
For literally every order exclusively on KatVonDBeauty.com, you'll receive a free mini version of the fan-favorite Studded Kiss Crème Lipstick if you use the code "LIPSTICKDAY" when you're about to check out. Even more, the brand is allowing customers to purchase any two shades of the Everlasting Glimmer Veil for only $30 total.
In honor of the best day of the year, IT Cosmetics is offering 15 percent off of all lip products, PLUS a free Je Ne Sais Quoi Lip Duo (which is normally a $48 value) when you spend $60 or more. All you have to do is use the code "LIPDAY2018" when you check out to get a perfectly hydrated pout.