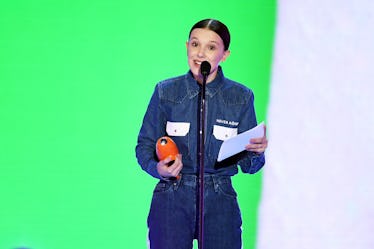 Millie Bobby Brown Wore This To Support March For Our Lives & It Is So, So Good
Kevin Winter/Getty Images Entertainment/Getty Images
Saturday, March 24, 2018 was a busy day across the nation. The March For Our Lives took place in the early afternoon in Washington D.C. with hundreds of sibling marches scattered throughout the United States. Later in the day it was time for the 2018 Kids' Choice Awards, and one of the celebrity guests took it as an opportunity to send a message of support to the March For Our Lives cause. Millie Bobby Brown's Kids' Choice Awards outfit honored Parkland victims, and it was so inspiring.
Brown was nominated in the "Favorite TV Actress" category thanks to her incredible performance as Eleven in the hit Netflix series, Stranger Things. Even before it was time for Brown's category, the 14-year-old actress made a statement with a denim jacket. This wasn't simply a best-dressed moment, though. The front of Brown's Calvin Klein jacket read "Never Again," and the back of it had "March For Our Lives" emblazoned across the top of it. To further support the 17 victims of the Feb. 14 mass school shooting at Marjory Stoneman Douglas High School in Parkland, Florida, Brown also had their names printed on the back of her jacket.
The jacket alone was wonderful show of support for the Mach For Our Lives and its mission to end gun violence and mass shootings in schools and communities, but Brown went even further to truly lift up the cause once it was her turn to take the stage.
According to Deadline, Brown (unsurprisingly) took home the award for Favorite TV Actress, and the young star took her moment in the spotlight as an opportunity to raise her voice for the voiceless. While still donning her March For Our Lives jacket, Brown addressed the wonderful show of support the March For Our Lives demonstrations received earlier in the day. Brown's speech was truly inspirational and really conveyed how much this cause means to her.
While accepting her Kids' Choice Award, Brown first thanked Nickelodeon "for bringing us all together," according to E! Online. Brown then spoke about the March For Our Lives. She said, "...the March for Our Lives demonstrations that took place all over the world today have inspired me and impacted us all in one way or another." Brown then spoke to the platform and visibility she has thanks to her celebrity when she shared,
...I get to be up here, and I'm privileged to have a voice that can be heard, one that I can use to hopefully make a positive difference and help influence change. OK, so there's an amazing support, love and kindness in this room right now, and I want to encourage everyone to embrace it and to pass it on.
Brown was a little emotional toward the end of her speech when she dedicated her award to "the angels among us." Seemingly holding back tears as she closed out her speech, Brown (speaking of the lives lost to gun violence) said, "Your spirit lives on. This is for you." She then turned around and showed the Parkland victims names that were printed on the back of her jacket.
Even with her short time on stage, Brown managed to capture the attention of the audience and show her support for the March For Our Lives in a truly inspiring way. Brown also took to her Twitter account on Saturday night to thank Calvin Klein for the jacket and their shared mission to "create positivity in this world."
By now, it shouldn't be surprising that young people have this ability to inspire and galvanize change. After all, it was largely the response of Marjory Stoneman Douglas High School students that led to events like the National Student Walkout and the March For Our Lives. Teenagers like Emma Gonzalez, David Hogg, Cameron Kasky, and many others became the face of a movement to push for stricter gun legislation following the Feb. 14 shooting in Parkland, Florida.
Thanks to the young people who are standing up for their right to feel safe in a school classroom, a real conversation surrounding gun legislation has finally emerged in the aftermath of a mass shooting — and with the strength and bravery of the young people leading the charge, change seems more like a reality than a dream.