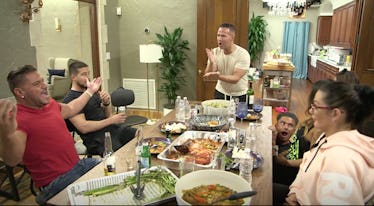 The Situation & Ronnie Finally Have That Explosive Fight On 'Family Vacation' & Yikes
MTV
Anyone who has been watching this season of Jersey Shore Family Vacation knew that a massive fight between The Situation and Ronnie has been brewing for a while. The two castmates have been "playfully" (read: not playfully at all) roasting one another throughout the series, and on Thursday night's season finale, that light roasting finally erupted into a full-blown explosion. Mike and Ronnie's fight on Jersey Shore Family Vacation was definitely the most intense moment of the season, and it unearthed a lot of the hidden drama between the cast.
The ending of last week's episode had clearly been leading to the inevitable Mike and Ronnie blow-up, as Ronnie walked in the room after Mike was telling the rest of the house that he thinks Ronnie needs professional help. That did not sit well with the rest of the house, especially JWoww, who said that if Mike really thought that Ronnie needed counseling or rehab, he should tell that to him privately instead of whispering about it behind his back. As we all know, JWoww is not one to keep quiet when she does not like something, and she brought up Mike's comments over the group's final dinner together. I mean, the Jersey Shore cast could not just leave the house without one last fight, right? Thanks, JWoww!
After Jenni mentions that Mike has been talking about Ronnie behind his back, all hell breaks loose. Ronnie screams that he has been drinking so much during the show because he is trying to squeeze in his last chance at partying before becoming a father (his girlfriend at the time, Jen Harley, gave birth to their daughter Ariana Sky in April). However, Mike responds by broadcasting a private conversation Ronnie had with him prior to filming the show:
Did you not call me two weeks before we came here and said you needed rehab?!
Ronnie clarifies that he said he needed help, not rehab, but Mike sees that as a distinction without a difference. Mike claims that Ronnie told him he's planning on entering rehab when he leaves the Miami house, but Ronnie snaps back, "My rehab is different from your rehab." At this point, Ronnie goes for the jugular, pointing out how Mike's struggle with sobriety and legal issues have been highly publicized for years. As he continues to scream at Mike, the sobered-up Situation just keeps calmly repeating, "You need help," while the rest of the cast ducks under the table and clasps their mouths in nervous shock.
So, yeah... things are definitely super tense in the Jersey Shore house after that, but thankfully, only for a little while. Mike and Ronnie talk things out shortly after the blow-up, assuring one another that they are still brothers. The consensus in the house seems to be that Mike overstepped when he shared personal details that Ronnie told him in private, and Mike apologizes for airing that out in front of the whole house (and all the MTV cameras). The two make up and, since it is their last day in Miami, decide to end things on a high note by partying together at DJ Pauly D's nightclub gig.
But one of the tragically ironic statements made during Mike and Ronnie's fight still lingers. Ronnie said Mike's personal drama is widely covered publicly, whereas his is not ("You're sh*t is public, you're sh*t is real news, it's f***ing in the papers!"), but as anyone who has been even tangentially keeping up with Jersey Shore happenings knows, that script has totally flipped since Jersey Shore Family Vacation began airing. Ronnie's shockingly dramatic relationship turmoil has been the most extensively covered bit of Jersey Shore news to come from the reunion series. I guess we will see how all of this affects Mike and Ronnie's tense relationship in Season 2.