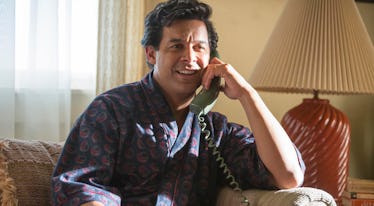 'This Is Us' Explains Details Of Miguel's Backstory & It's More Complicated Than We Realized
NBC
For the season and a half that This Is Us has been on the air, no character has has received more hate from the fans than Miguel. In all fairness, Miguel really hasn't gotten much time to shine, and fans were pretty much dead-set on hating him from the get-go just because he replaced the beloved patriarch Jack in the Pearson family, but the misunderstood stepdad may have gotten his redemption story in Tuesday night's new episode. This Is Us explored Miguel's backstory in more detail, and the touching revelations may finally win over some of the Miguel haters. Spoiler alert: This post will discuss details in This Is Us Season 2 Episode 12, "Clooney."
Following the nuclear explosion that was that family therapy session last week, Kevin decides it is best that he move in with Rebecca to spend more time with his mother after completing his stint in rehab. Unfortunately for Kevin, Miguel keeps getting in the way of his mother-son bonding attempts (because like... duh, he lives there too; what'd ya expect, Kev?) Kevin gets so frustrated that Miguel is always around that he confronts his stepdad, but Miguel turns it around, saying that he wants to be there for Rebecca to protect her if Kevin tries to hurt her again, like he did when accusing her of caring about him less than his siblings in therapy.
Eventually, Kevin finally comes forward with the real issue he has with Miguel, asking him if he was in love with Rebecca while she was married to Jack. Like Kevin, this may have been one of the major issues that This Is Us fans have had with Miguel as well — he was supposed to be Jack's best friend, so what does it mean that he turned around and marry his widow? Miguel addressed the question up-front, arguing that it would have been impossible for him to fall in love with Rebecca back when Jack was still alive, because he saw them as a couple rather than individuals. They were not just Jack or just Rebecca, he said, they were Jack and Rebecca.
So clearly, Miguel was not going after Rebecca when she was still with Jack. We also know that it took a long time after Jack's death for Rebecca and Miguel to reconnect, which occurred via a Facebook message from Miguel after the birth of Randall's daughter Tess. This new info about Miguel respecting Rebecca and Jack's relationship, coupled with the fact that Rebecca and Miguel didn't start their romance for years after Jack died, should be enough to ensure some This Is Us fans that Miguel may not be as bad a dude as they might have thought.
The new episode also gave us a bit more detail on Miguel's first marriage. In the flashback story to the Big Three's teenage years, Miguel tells Jack and Kevin that he is bummed about his ex-wife Shelley recently getting engaged to another man. We really have not heard much about Shelley, or Miguel's two children with his first wife, Andy and Amber, so this new detail in his timeline could turn into something more enlightening later on.
At the end of the episode, Kevin seems to have come around to Miguel's relationship with his mother after having a talk with Rebecca and seeing how happy she is with him. That may be one part of the Big Three down, but Miguel is still going to have to do some work to win over Kate and Randall. Maybe we will see Miguel get closer to the other Pearson kids in future episodes... until then, it is just nice to know that he really does seem to be a good guy.