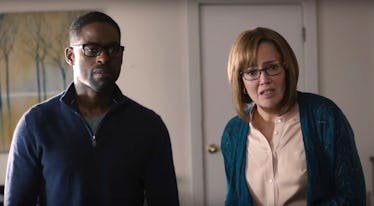 Tweets About The Pearson Therapy Session On 'This Is Us' Are So, So Emotional
NBC
This Is Us came back with an emotional bang on Tuesday night, with an episode that included one of the most raw, heart-rending scenes that we have ever seen on the family drama. A large chunk of the show's midseason premiere was set in a family therapy session, during which the Pearsons finally aired all of their emotional baggage with one another openly. The long, fraught scene not only cut the characters deep, but also everyone watching the show... just ask Twitter! All the tweets about the Pearson therapy scene on This Is Us prove that it was one of the most emotional moments yet on the show.
We knew we were in for an emotional wallop of an episode after the end of This Is Us' shocking midseason finale a little over a month ago, but "The Fifth Wheel" really took things to the extreme. Following Kevin's DUI (which he was issued while Randall's daughter Tess was stowing away in the back seat of his car), the oldest Pearson child was sent to court-mandated rehab and therapy. Kevin appeared to be doing great in rehab, but the drama burst through the floodgates when he invited his family for a group therapy session to work out all their demons. The result was basically a string of screamed accusations, painful crying, and harsh truth-bombs.
In the scene, Kevin shared that he felt excluded throughout his childhood, pointing out that Kate got special attention from their father and Randall was very close with their mother, leaving him feeling like a fifth wheel in the family. He went on to say thinks he became an addict due to Jack's alcoholism, and even said he thinks Kate's food issues may stem from Jack's addiction. Randall fired back that Kevin was really just addicted to attention, leading Kevin to blow up, pointing out that Randall's daughter ran away from him because he doesn't pay enough attention to her. Rebecca wrapped up the whole session by bursting into tears after being pressed by Kevin, admitting that she got along with Randall best because he was the easiest to raise.
So, yeah — it was... a lot! Check out the tearful therapy scene for yourself below, and then we can get into all the responses to it on Twitter that will probably give you a whole new perspective on the Pearson family:
Right after the therapy scene aired, Twitter blew up with This Is Us fans sharing how blown away they were by all the standout moments. Although each member of the Pearson family was arguing against one another, the fans were in agreement that it was one of the best scenes that they have seen from the family drama. Fans weighed in by providing insight into how each character must have felt during the therapy session, including validating Kevin's feelings of exclusion and reacting to Rebecca's shocking breakdown at the very end.
Check out all the best tweets about the This Is Us therapy session below:
The teary, angry therapy session served as something of an emotional climax to the depressing storylines of the Big Three in the three previous episodes. Kevin is finally coming to terms with his addiction to alcohol and pills, Kate is moving forward after her devastating miscarriage, and Randall is being forced to confront his own issues after saying goodbye to his foster child Deja.
The new episode wasn't all sad, though — after the therapy session, Kevin, Kate, and Randall sat down together and made up, and Kevin and Rebecca realized they actually did have a special relationship after all. But as every This Is Us fan knows by now; the emotional drama is never really over.