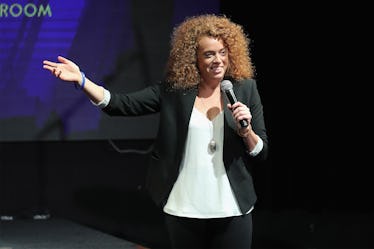 Michelle Wolf Clapped Back At Her WHCD Critics & It Was Not What I Expected
Neilson Barnard/Getty Images Entertainment/Getty Images
If you were hoping to get an apology from Michelle Wolf following her highly-criticized jokes at the White House Correspondents Dinner on April 28, you might be waiting for a while. The comedian is standing by her performance, regardless of the backlash she got for her comments on White House Press Secretary Sarah Huckabee Sanders or even President Donald Trump, himself. And once you see Michelle Wolf's response to White House Correspondents Dinner critics, you might be as equally shook as I am that she's so unbothered by this all this controversy.
In an interview with NPR, set to air on May 1, Wolf said she didn't regret any of her comments at the dinner and was glad she "stuck to my guns." She explained, "I mean, I'm honestly — I wouldn't change a single word that I said. I'm very happy with what I said, and I'm glad I stuck to my guns."
Wolf also expressed that her only goal of the evening was to stay true to her brand and style of comedy, so even though she ruffled more than enough feathers with her jokes, you can't really hate on her too much for that. Wolf explained:
I wanted to do something different. I didn't want to cater to the room. I wanted to cater to the outside audience, and not betray my brand of comedy. I actually, a friend of mine who helped me write, he gave me a note before I went on which I kept with me which was, 'Be true to yourself. Never apologize. Burn it to the ground.'
While it's refreshing to see Wolf staying true to herself, attendees of the Correspondents Dinner took her jokes pretty hard — including Sanders. During the event, Wolf said of the press secretary:
I actually really like Sarah. I think she's very resourceful. She burns facts and then she uses that ash to create a perfect smoky eye. Maybe she's born with it, maybe it's lies. It's probably lies.
Though the comment was said as a joke, Sanders, who sat just feet away from Wolf, was visibly upset and offended by the remark.
But Sanders wasn't the only one on the comedian's radar. Wolf also took aim at Trump, who refused to attend the event due to his ongoing feud with the press. The next day, however, on April 29, Trump scolded Wolf on Twitter, calling her a "so-called comedian" who "really bombed."
What makes Wolf's response even more brutal is the fact that the White House Correspondents Association (WHCA), which holds the event, also shaded the comedian over her performance. The organization's president, Margaret Talev, released a statement on Twitter saying Wolf's monologue was "not in the spirit" of the program's mission.
"Last night's program was meant to offer a unifying message about our common commitment to a vigorous and free press while honoring civility, great reporting and scholarship winners, not to divide people," Talev said. "Unfortunately, the entertainer's monologue was not in the spirit of that mission."
While tons of people have been outraged at Wolf for her comments, it's honestly a part of the event's traditions. In 2017, Hasan Minhaj scorched Trump with a comparison to King Joffrey from Game of Thrones. And back in 2010, President Barack Obama was roasted by Jay Leno, who joked about the commander-in-chief going gray. With all the stressors that come with the presidency, it's nice to have a laugh every once in a while.
So you go, Wolf. Though there are some people who are still upset with the jokes, maybe one day they'll be able to look back on this whole thing and share a laugh. OK, maybe not Trump, but wishful thinking.