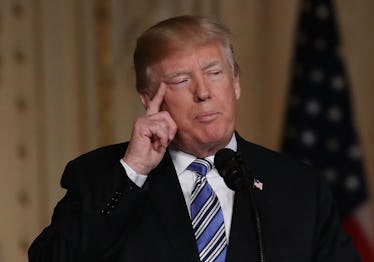 Trump Called The White House Correspondents' Dinner A "Boring Bust" & Suggested This Person To Host Next Year
Joe Raedle/Getty Images News/Getty Images
Once again, President Donald Trump has skipped out on the annual White House Correspondents' Dinner. Though it might have been pretty invigorating to watch Trump's reactions as he sat in a room full of journalists from the "Fake News" organizations that are often subject to his fierce Twitter attacks, he decided to hold a rally in Michigan instead. Even so, he didn't resist sharing some thoughts about the political event on Twitter. Trump's tweet about the 2018 White House Correspondents' Dinner called the event a "boring bust," and he even suggested a Fox News regular as the host for next year's event.
Also known as "nerd prom," the White House Correspondents' Dinner was hosted by comedian Michelle Wolf on Saturday, April 28. Even though President Trump was not in attendance, Wolf's jokes took aim at the president and the Trump administration. Wolf didn't hold back, and she addressed the alleged 2006 affair between Trump and Stormy Daniels (Trump has denied the affair). Wolf joked, "Like a porn star says when she's about to have sex with the president, let's get this over with."
Trump wasn't in the room to hear that joke, but he took to Twitter on Sunday morning to give his thoughts about the night. In his tweet he called Wolf a "so-called comedian" before saying she really "'bombed'." Trump also referred to the night as "a very big, boring bust."
The president closed his tweet with a suggested host for next year's event, and he thinks Fox News host Greg Gutfeld is the man for the job. Gutfeld hosts his own show on Fox News called The Greg Gutfeld Show (which is described on the show's website as a "parody of current events", and he also cohosts another Fox News program called The Five (which is a weekly panel talk show).
It's not surprising that President Trump might prefer a Fox News host for the White Correspondents' Dinner headliner. The president isn't shy about showing his affinity for the news channel, and he even called in to Fox & Friends on Thursday, April 26, according to The Atlantic. Now, I'm not sure if the president gets a say in picking the host, but, according to his tweet, Trump likes Gutfeld for the job.
Trump had previously been wishy-washy over his decision to attend the dinner, but on April 6, the White House Correspondents' Association (WHCA), which hosts the event, announced that he wouldn't be attending for once and for all. In a statement shared to Twitter, WHCA president Margaret Talev wrote,
The White House has informed us that the president does not plan to participate in this year's dinner but that he will actively encourage members of the executive branch to attend and join us as we celebrate the First Amendment. In keeping with tradition, Press Secretary Sarah Sanders also will represent the administration at the head table. The April 28 dinner celebrates award-winning reporting, scholarship winners and the vital role of the First Amendment and the free press in American democracy.
It was a revelation that wasn't too surprising for many, as the president is in an ongoing feud with several media outlets and journalists. (And it probably doesn't help that CNN, one of Trump's main targets, is being honored this year, Politico notes). Just hours after the announcement that he would not be attending the dinner, Trump punched out yet another tweet about the "Fake News Media" and said that "so much of the media is dishonest and corrupt!"
Maggie Haberman, a correspondent for The New York Times and recent subject to Trump's Twitter attacks, was also given the Aldo Beckman Award at the White Houes Correspondents' Dinner for showing "her deep understanding of what makes President Trump tick," according to Politico. Though she's an acclaimed reporter, who even won a Pulitzer Prize for her work earlier this month, the president isn't the biggest fan of hers. Trump has called Haberman a "third rate reporter" and a "Crooked H flunkie" over her coverage of his relationship with Michael Cohen, who is currently being investigated by the FBI for alleged bank fraud, wire fraud and campaign finance violations, according to The Washington Post.
Trump also skipped last year's dinner amid his feud with the media, but some people suspect that his decision could stem from other factors — like the correspondents' dinner in 2011, when Trump was mocked by Barack Obama after his incessantly bogus claims that Obama had been born in Kenya. According to Newsweek, Obama joked,
I know that he's taken some flack lately. No one is prouder to put this birth-certificate matter to rest than the Donald. And that's because he can finally get back to the issues that matter, like: 'Did we fake the moon landing?' 'What really happened in Roswell?' And, 'Where are Biggie and Tupac?'
It doesn't look like Trump's feud with the media is gonna end anytime soon, so who knows if he'll make next year's event, either. But let's hope that he'll be the bigger person and will get over his feelings for the sake of White House tradition.