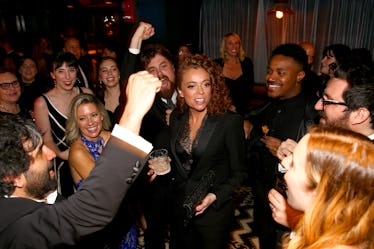 The White House Correspondents' Association Had A Controversial Response To This Year's Roast
Tasos Katopodis/Getty Images Entertainment/Getty Images
The annual White House Correspondents' Dinner (WHCD) was this weekend, and if you don't feel like you've aged 10 years following the Twitter backlash, then you likely haven't been paying attention. Comedian Michelle Wolf, who was invited to host the dinner this year, has been chided by President Donald Trump, conservative media personalities, journalists, and now, the head of the White House Correspondents' Association herself for her monologue. The White House Correspondents' Association (WHCA) statement about Michelle Wolf after the event was unprecedented. It was published by the association on Twitter late Sunday, April 29, and was a break from the nonprofit's tradition of defending free speech.
The WHCD is a time-honored tradition in which journalists take a night off from speaking truth to power and mingle with D.C. staffers and media influencers. The April 28 dinner was Trump's second while being president — and the second one he refused to attend. Wolf's monologue was rough and pulled no punches as her comedy was pithy, funny, and rang true. For some though, it had crossed a line, especially when it came to a segment on White House Press Secretary Sarah Huckabee Sanders. A tide of backlash came on Twitter the next day, culminating in a rare and surprising expression of regret from WHCA President Margaret Talev.
"Last night's program was meant to offer a unifying message about our common commitment to a vigorous and free press while honoring civility, great reporting and scholarship winners, not to divide people," Talev said in a statement late Sunday. "Unfortunately, the entertainer's monologue was not in the spirit of that mission."
Just hours earlier on CNN, Talev seemed to defend Wolf's monologue, though.
"When the entertainer is a comedian — as has been the case for the last 30 years or so — they are often controversial, they are often to some extent polarizing, or provocative, and it's a night about free speech," Talev said earlier on Sunday, April 29.
The seemingly conflicting statements definitely turned heads on Sunday in the whirlwind following the WHCD.
Then, if you can believe it, Twitter further descended into chaos. Talev's statement on the WHCD was taken to be a direct rebuke of Wolf's comedy, apparently siding with Trump and his surrogates. More broadly, the head of the WHCA was viewed by some as trying to stay in the good graces of the the Trump administration.
This is hardly the first time the WHCD has drawn criticism and controversy. Though Talev's statement does seem markedly different from how the WHCA has handled such controversies in the past.
For instance, Stephen Colbert's 2006 monologue has been widely-hailed as one of the harshest of the last few presidencies. He roasted President George W. Bush for most of his 20-minute monologue in character as his conservative punditry character from The Colbert Report. In the wake of Colbert's edgy performance, then-president of the WHCA Steve Scully told Editor & Publisher, "There are some things out of your control. You have no control over what your headliner will do, they do what they do." He also dismissed claims that the event made the press seem too cozy with the Executive Branch.
"If people want to criticize the dinner, then don't come," Scully added. "But for those people who come, they have a good time."
Ann Compton, who took over leadership of the WHCA after the Colbert performance, said that the criticism of his monologue wouldn't water down her choice for the following year's host. (She ended up choosing impressionist and voice actor Rich Little, who bombed.)
"I have lots of things I am thinking of," Compton said in 2007. "Whatever it will be, it will be a choice to make it a great evening. It won't be to please a presidential staff, it will not be to be politically correct."
Much of the outrage about the WHCD this year has to do with the association's step in the other direction, by appearing to cow-tow to the Trump administration's (and Republicans') displeasure with Wolf's jokes. Some demanded that Wolf apologize to Sarah Huckabee Sanders. Others wanted to see the entire event cancelled next year. People can argue left and right about the relevance or necessity of the WHCD, but there is definitely something off about an organization claiming to spearhead adversarial journalism, but falling over itself to protect the hurt feelings of the president and his surrogates.