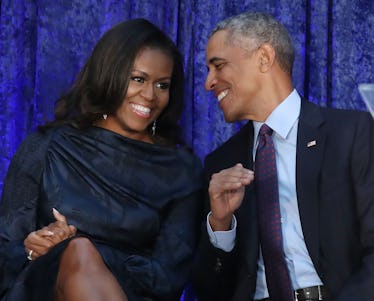 Michelle Obama Has The Best Advice On How To Be Happy, So Here's How To Follow Her Lead
Mark Wilson/Getty Images News/Getty Images
Some people just seem to have their lives totally put together; they've mastered work-life balance, they know what makes them tick, and they're totally in touch with their body's needs. Michelle Obama seems to be one of those people. From the Senate to the White House, the former first lady has raised two beautiful, strong daughters, pursued a successful career, and maintained a happy and healthy marriage, all while keeping stellar composure and grace in the public eye. But it was in a recent interview with Refinery29 that Michelle Obama's quotes about happiness, specifically, really stood out to me, because she proved that, even if you "have it all" in life, happiness is still something you have to consciously choose for yourself each and every day.
Now, most of us are taught growing up that happiness, like anger and sadness, is simply an emotion. However, the deeper I dig into the black hole of scientific discovery, the more I come to realize that happiness cannot solely be defined by a swarm of butterflies tickling the walls of your stomach when the person you like asks for your number, or the nirvana that comes when savoring the remnants of a powdered munchkin from your fingers. Happiness is, in fact, less of a lightheaded feeling, and more of a chemical reaction; a domino effect, so to speak, of the right hormones being triggered in your body based on the decisions you make day to day.
It sounds complicated, I know, but actively going through the motions and zeroing in on the who, what, and where of what makes your unique self subliminally happy is well worth the effort, and my girl Michelle seems to agree. When asked what her most effective daily habit was, Obama told Refinery29 that she "gives [herself] permission to be happy" both physically and mentally, via her "diet, physical activity, and emotional state." She explained,
When I'm happier and healthier, my family is happier and healthier, and it affects how I interact with my friends and the people I work with. So I've freed myself to say, yes, I can make choices that make me happy, and that will ripple out and be good for the people I love as well.
You know how stress can be contagious? Happiness can be, too, but it has to stem from somewhere, and that somewhere should be you (#SorryNotSorry for that accidental rhyme). Anyone can choose to be happy, but giving yourself permission, as Obama likes to do, is so much more personal and meaningful. It's a reminder that, not only should you choose to be happy, you deserve to be happy. Here are a few ways you can give yourself permission to be happy every day, starting right now.