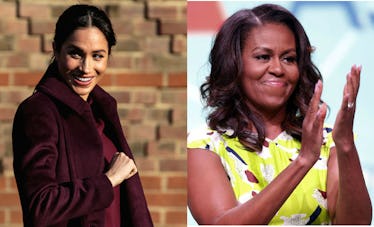 Michelle Obama Gave Some Thoughtful Advice To Meghan Markle About Dealing With Pressure
Jack Taylor/Getty Images Entertainment/Getty Images & Jonathan Bachman/Getty Images News/Getty Images
Let's face it, it can't be easy living in the spotlight 24/7. Even though formal dinners and charity events can be enjoyable on certain occasions, there's sure to be a lot of stress that comes with being a high-profile figure. So, one can imagine the amount of adjusting it took for new royal Meghan Markle to handle the increased public attention. Well, luckily for her, Michelle Obama's advice to Meghan Markle about dealing with that public pressure is so thoughtful and helpful. Girl power, baby.
On Sunday, Dec. 2, former FLOTUS Michelle Obama sat down with Good Housekeeping for their January 2019 issue to promote her recently released memoir Becoming. In her book, Obama, who graces the magazine's January cover, discusses the pressure she faced serving as the first lady of the United States and how she dealt with the stress. Well, while speaking to Good Housekeeping, Obama shared some advice for Duchess of Sussex Meghan Markle about handling the pressures of being in the spotlight since her high-profile marriage to Duke of Sussex Prince Harry. To no surprise, Obama's advice was just as poised and elegant as she is. She said,
Like me, Meghan probably never dreamt that she'd have a life like this, and the pressure you feel — from yourself and from others — can sometimes feel like a lot. So my biggest piece of advice would be to take some time and don't be in a hurry to do anything. I spent the first few months in the White House mainly worrying about my daughters, making sure they were off to a good start at school and making new friends before I launched into any more ambitious work. I think it's [OK] — it's good, even — to do that.
As a popular former first lady, Obama is definitely someone who can offer some insightful advice to Markle. The new Duchess of Sussex tied the knot with Prince Harry, Duke of Sussex, on May 19, and it was a wedding that was celebrated across the world. Even though the former Suits actress is no stranger to the public spotlight, her union to Prince Harry represented her induction to British royalty, and that's a whole new world. Since the wedding, Markle has lived up to her new royal title by enjoying visits with Queen Elizabeth, making overseas visits, and totally dressing the part.
Clearly Markle is killing the British royalty game at the moment, but it looks like the Duchess should expect even more coverage for the next few months. On Monday, Oct. 15, the Kensington Palace totally brightened our day when they announced via Twitter that Markle is pregnant with her and Prince Harry's first child. Once the news was announced, I'm pretty sure my squeals of joy could be heard all the way to Windsor Castle, but my excitement is nothing compared to Prince Harry's and Markle's.
Even though Markle's new British title, and pregnancy, is exciting news to all of us, there's no doubt that the Duchess will have to expect a lot more public attention. Good thing she's got some great advice to lean on.