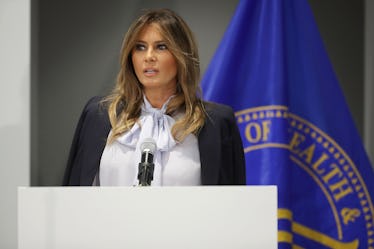 Melania Trump's Event On Cyberbullying Was Just So Badly Timed
Chip Somodevilla/Getty Images News/Getty Images
The first lady is under fire again for her platform about promoting positive online behavior in children. Melania Trump's event on cyberbullying, which took place in Rockville, Maryland on Monday, Aug. 20, couldn't have come at a worse time. Her husband, President Donald Trump, continued to attack his foes on Twitter during the event, adding to ongoing criticism around the first lady's anti-cyber bullying campaign.
"In today's global society, social media is an inevitable part of our children's daily lives," Trump said at the event Monday. "It can be used in many positive ways, but can also be destructive and harmful when used incorrectly."
She went on to share her views of what should be done to best mitigate any negative impacts of technology and online use in the younger generation.
Let's face it: most children are more aware of the benefits and pitfalls of social media than some adults, but we still need to do all we can to provide them with information and tools for successful and safe online habits.
The event was part of the first lady's "Be Best" campaign, which launched in May amidst criticism given her husband's own social media behavior. The three pillars sought to improve children's lives by addressing social media, well-being, and opioid abuse. While the campaign was slow to launch compared to the platforms of her predecessors, not much has happened publicly since the May announcement, prompting criticism that the first lady wasn't doing enough in her White House role.
Adding to that backlash was the criticism that the first lady's platform is at odds with the president's behavior.
Trump didn't give specific examples of what should be done to protect children at the Aug. 20 event, but did mention that she'd been advised by Microsoft's Council for Digital Good.
Per a pool report, Trump's remarks were followed by a panel, including representatives from Twitter, Google, and Facebook. The panel discussion took place as the president Monday tweeted about former CIA Director John O. Brennan, whose security clearance Trump revoked on Aug. 15, calling him the "worst CIA director in our country's history."
According to pool reports, Twitter's Lauren Culbertson spoke about the company's policy around cyberbullying, saying, "We have strong rules against abusive behavior and we've leveraged technology to help us enforce those rules."
Even the CNN banner while the event was broadcast live pointed out the disconnect, reading, "Melania fights cyberbullying as husband tears into critics."
Some speculated that the "some adults" line from Trump's speech was an allusion to her husband. In a statement to Elite Daily, Trump's communications director Stephanie Grisham responded, saying, "The majority of the attendees in the room were adults, all with some kind of expertise in the fields of tech, social media, or law enforcement," she said. "The speech was written for the audience to which it was presented."
Separately, Grisham defended the Be Best campaign in a statement to CNN. "[Trump] is well aware of the criticism, but that will not deter her from doing what she feels is right," Grisham said.
According to pool reports, reporters asked Grisham following the panel about the first lady's platform in light of the president's tweets during the event. "The first lady's presence at events such as today's cyberbullying summit elevates an issue that is important to children and families across this country," Grisham told reporters. "She is aware of the criticism but it will not deter her from doing what she feels is right. The president is proud of her commitment to children and encourages her in all that she does."
Critics were fueled by recent outbursts and actions by the president and his unprecedented decision, announced at a press briefing on Aug. 15, to revoke the security clearance of Brennan and potentially from other high-level former national security officials. The decision provoked backlash that the president was abusing his power by attempting to silence his critics, considering Brennan's frequent censure of Trump. The president, through Press Secretary Sarah Huckabee Sanders, said that the decision was prompted by Brennan's alleged "lying and recent conduct, characterized by increasingly frenzied commentary."
Some have suggested that the odd timeline of the announcement — weeks after the decision was apparently dated — was also strategic, as it coincided with a wave of tremendously unfavorable news for the president. Since Aug. 10, Trump's former aide, Omarosa Manigault Newman, has dominated headlines over jaw-dropping claims she made about the president in her new tell-all book, an account of her time in the White House which released on Aug. 14.
In response to the claims, Trump took to Twitter repeatedly to bash on Manigault and her credibility, hurling out a series of escalating put-down, including: "vicious," "not smart," "wacky," a "crazed, crying lowlife," and "that dog."
As CNN points out, the first lady told 60 Minutes just after the election that she calls out her husband on his social media behavior "all the time." "But he will do what he wants to do on the end," she told CBS in 2016. "He's an adult. He knows the consequences. And I give him my opinion, and he could do whatever he likes with it."