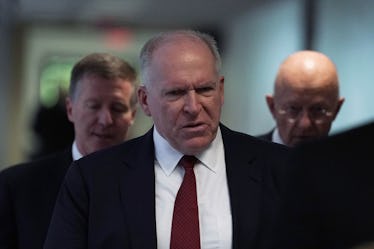 Obama's Former CIA Director Isn't Pulling Punches About Trump & Collusion With Russia
Alex Wong/Getty Images News/Getty Images
On Wednesday, Aug. 15, news broke that Donald Trump had pulled security clearance for former CIA Director John Brennan, and safe to say it's causing drama. Well everyone, the drama continues, because John Brennan's response to Trump revoking his security clearance is not a pretty one. Let's see how this unfolds.
On Aug. 16, just a day after Trump revoked his security clearance, Brennan wrote an opinion piece in The New York Times discussing his thoughts on the reason why Trump revoked his clearance. Right from the beginning, Brennan addressed the most controversial topic on everyone's mind: possible Russian collusion. Although Donald Trump has claimed time and time again that there's been "no collusion," Brennan definitely has different views on that subject.
"Mr. Trump's claims of no collusion are, in a word, hogwash," Brennan wrote in The Times.
In addition to that mic-drop claim, Brennan finished his opinion letter by stating Trump's reason for revoking his security clearance is so the president can "protect himself and those close to him." He emphasized the importance of FBI Special Counsel Robert Mueller's investigation into possible collusion with Russia in order for Americans to "get the answers they deserve."
John Brennan served as CIA Director for President Barack Obama's administration from March 2013 to January 2017, until now-former CIA Director Mike Pompeo took his place in January 2017. While it's normal for former high-level officials to maintain their clearances after leaving an administration, per Vox, on Aug. 15 Donald Trump and his administration pulled Brennan's security clearance apparently out of the blue, claiming Brennan has been "lying" and misusing his clearance. Once it was revealed that his clearance had been revoked, White House Press Secretary Sarah Huckabee Sanders addressed the matter through a statement during a press brief that day. She said,
Mr. Brennan's lying and recent conduct characterized by increasingly frenzied commentary is wholly inconsistent with access to the nation's most closely held secrets and facilities, the very aim of our adversaries which is to sow division and chaos. Mr. Brennan has recently leveraged his status as a former high-ranking official with access to highly sensitive information to make a series of unfounded and outrageous allegations — wild outbursts on the internet and television — about this administration.
In addition to the statement, Sanders also revealed that the administration is evaluating clearances for a few other familiar faces: former Deputy Attorney General Sally Yates, former FBI Director James Comey, former FBI counterintelligence agent Peter Strzok, former FBI Deputy Director Andrew McCabe, and a number of other top-ranking officials. Reevaluating security clearances may not be uncommon from time to time, but it is interesting that the individuals who are undergoing evaluation aren't exactly the biggest fans of Donald Trump.
For example, Brennan has been an outspoken critic of Donald Trump since he took office in January 2017. On July 16, after Donald Trump met with Russian President Vladimir Putin, Brennan took to Twitter to accuse Trump of "being in Putin's pocket" based off his behavior during the Helsinki summit. He wrote,
Donald Trump's press conference performance in Helsinki rises to & exceeds the threshold of "high crimes & misdemeanors." It was nothing short of treasonous. Not only were Trump's comments imbecilic, he is wholly in the pocket of Putin. Republican Patriots: Where are you???
Brennan also condemned Trump for his words on Aug. 14 towards former White House Staffer Omarosa Manigault, when he referred to her as "that dog" on Twitter. "It's astounding how often you fail to live up to minimum standards of decency, civility, & probity," Brennan wrote in a tweet.
The day his clearance was revoked on Aug. 15, Brennan took to Twitter in order to air out some frustrations at the decision.
Security clearance or not, it looks like the former CIA director isn't backing down from speaking his mind. Judging from Sanders' statement, we might be seeing a few more security clearances revoked in the near future. Let's hope a few more opinion pieces come along with them.