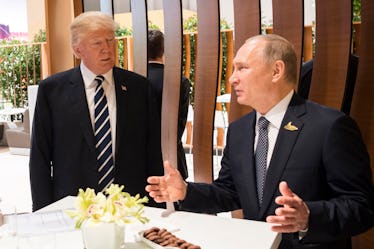 Trump & Putin Met In Helsinki & It Looked Tense
Handout/Getty Images News/Getty Images
President Donald Trump is currently in Helsinki, Finland to meet with President Vladimir Putin of Russia. It's no secret that there are strained relations between the United States and Russia, so all eyes are on the summit between the two leaders in Helsinki. It kicked off on Monday, July 16, and the video of Putin and Trump shaking hands at their Helsinki summit is so awkward to watch.
Putin and Trump met in front of the press in the Presidential Palace in Helsinki, and they each provided remarks regarding their respective hopes for the summit, per The New York Times. Given the tense relations between the United States and Russia, the moment before either man spoke was filled with a slightly uncomfortable silence. Putin eventually began to speak, and then Trump immediately followed with his own thoughts on the summit.
Trump began by once again congratulating Putin on hosting "one of the best ever" World Cup tournaments in Russia, per the video of the meeting posted on the Associated Press Twitter account. He then moved on to say that the United States and Russia will "have a lot of good things to talk about" during the summit, and Trump then specified that the leaders "will have discussions on everything from trade to military to missiles to nuclear to China."
Trump then posited that a better relationship is possible between the United States and Russia now that Trump is president. Ahead of a brief handshake between the two leaders, Trump said,
We've been not getting along very well for the last number of years. I've been here not too long, but it's getting close to two years. But I think we will end up having an extraordinary relationship. I hope so. I've been saying it, and I'm sure you've heard over the years — and as I campaigned — that getting along with Russia is a good thing, not a bad thing.
Trump concluded, "We all have a lot of questions, and hopefully we'll come up with answers. It's great to be with you," and then the two men briefly shook hands as they headed to a 90-minute bilateral meeting, according to Yahoo! News.
OK, these topics all sound like common points of discussion between two nations with contentious diplomatic relations, but the timing of this meeting couldn't be worse. On Friday, July 13, the Justice Department announced indictments against 12 Russian nationals. The indictments against the members of GRU, a Russian federation intelligence agency, are a part of special counsel Robert Mueller's investigation into Russian meddling in the 2016 presidential election, per CNN. They were accused of a "sustained effort" of hacking the Democratic party's emails and computer networks.
It's that news coupled with President Trump's refusal to even verbally reprimand Russia for the Justice Department's findings that make Trump's summit with Putin uncomfortable. Trump continues to refer to the Mueller investigation as a "Rigged Witch Hunt," and he blamed that on the "foolishness and stupidity" of the United States in a tweet sent by Trump on Monday morning.
With Trump's dismissive attitude toward the Russia investigation, I'm not sure if he'll try to get answers from Putin about it during the Helsinki summit, but I guess you'll have to wait and see.