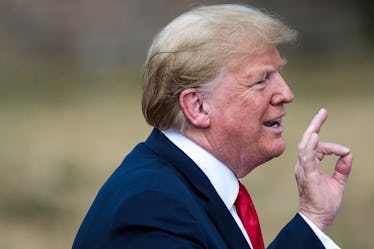 Donald Trump's Tweet About The World Cup Went In A Very Ironic Direction
Jack Taylor/Getty Images News/Getty Images
Donald Trump has had... let's just call it an "interesting time" on the international stage of late. Between arguing with other NATO leaders and setting up a controversial meeting with Russian President Vladimir Putin, Trump has been upending expectations for international diplomacy. But there's one thing that should still be just friendly competition, and that's international sports tournaments — right? Well, Donald Trump's tweet about the World Cup and Putin is so ironic, and it's making the 2018 World Cup even more dramatic than it's already been.
On Sunday, July 15 international soccer fans saw the national teams for France and Croatia fight it out for first place at the 2018 FIFA World Cup at the Luzhniki Stadium in Moscow, Russia. The leaders of both nations, French President Emmanuel Macron and Croatian President Kolinda Grabar-Kitarovic, were in attendance, along with Putin, the president of host country Russia. It was a worthy finish for a tournament that had been a wild ride from start to finish, with the French team beating out Croatia for their first World Cup win in 20 years. It was a beautiful game — so naturally, President Trump felt the need to reach out with his congratulations, but not to who you might expect. He wrote,
Congratulations to France, who played extraordinary soccer, on winning the 2018 World Cup. Additionally, congratulations to President Putin and Russia for putting on a truly great World Cup Tournament -- one of the best ever!
OK, so he made it as far as congratulating France, but then, instead of congratulating the French president and U.S. ally, Macron, he did a hard 180 and congratulated Putin instead, saying that he put on one of the "best ever" World Cups. While that last compliment is certainly debatable — not least because there was an enormous amount of controversy around Russia's bid to host the World Cup, including allegations that they won the right to host the huge international tournament by cheating and corruption — it's also extra ironic since it's coming at a time when Trump has been heavily criticized for apparently valuing his relationship with Putin over that of his own allies.
For example, during this year's NATO summit on July 11 and 12 in Brussels, Belgium, Trump went on the attack against leaders of U.S. allies such as German Chancellor Angela Merkel, calling Germany a "captive" of Russia. And back in June, he behaved in a similar manner at the G7 summit, offending some of America's strongest allies with his words and behavior, which included tweeting insults at Canadian Prime Minister Justin Trudeau and allegedly throwing Starburst candies at Merkel.
In the meantime, Trump seems to be taking a much friendlier tack with sometime-adversary Russia, which notably meddled in the 2016 U.S. presidential election in an attempt to influence the outcome. Trump has been famously friendly with Putin despite the meddling, and is due to have his third meeting with the Russian leader on Monday, July 16, in Helsinki, Finland. The two met for the first time at the G20 summit in Germany in the summer of 2017, and then met again in the fall at an economic forum in Vietnam.
So it's not unexpected — though no less ironic — that Trump offered his congratulations to Putin, despite the winner of the tournament being another country, and U.S. ally to boot. (Russia, for what it's worth, was knocked out of the tournament in the quarterfinals on July 7 by eventual second-place winners Croatia.)
Oh well. Maybe, when it comes to sports, Trump should stick to commenting on the World Series. At least he'll be guaranteed to avoid international diplomacy faux-pas.