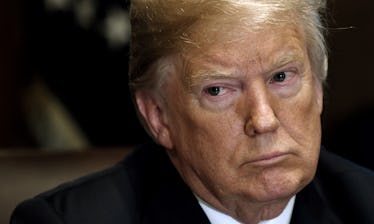 Trump Wants To Remove Security Clearances From Ex-Obama Officials & It's Petty AF
Pool/Getty Images News/Getty Images
Another day, another drama-filled Trump moment. This time, Trump wants to remove security clearances from ex-Obama officials, and it's truly petty AF. I mean, I know he's pretty anti-Obama and all, but dang. This is truly pettiness in its purest, most unfiltered form, and it's hard to even comprehend.
White House Press Secretary Sarah Huckabee Sanders made the announcement in front of reporters on Monday, July 23, after Republican Sen. Rand Paul suggested that Trump specifically revoke the clearance of critic and former CIA Director John Brennan — who often publicly calls out Trump.
In the announcement, Sanders went even further. She said Trump is not only considering revoking Brennan's clearance, but is also exploring "mechanisms" to revoke security clearances from other Obama-era officials who have criticized him, including former FBI Director James Comey, former National Security Adviser Susan Rice, former Deputy FBI Director Andrew McCabe, former NSA Director Michael Hayden and former Director of National Intelligence James Clapper. Apparently, Trump is upset at them for making "baseless" accusations against him regarding the Russia investigation and his ties to Russian President Vladimir Putin, according to The New York Post.
Sanders explained:
The president is exploring these mechanisms to remove security clearances because they've politicized and in some cases monetized their public service and their security clearances, making baseless accusations of improper contact with Russia or being influenced by Russia against the president is extremely inappropriate.
Unfortunately for Trump, it's kind of an idle threat, because neither Comey nor McCabe have clearances, as pointed out by The New York Times. As for those who do... well, some have already blasted Trump for the potential revocation, including Clapper. Moments after the announcement, the former director of national intelligence told CNN:
The security clearance has nothing to do with how I, or any of us, feel about the president ... I don't get the briefings, I don't have access to any classified information ... I don't know what to say. I think this is just a very, very petty — a petty thing to do. And that's about all I'll say about it.
Clapper went on to say Trump's actions would be an "abuse of the system."
The announcement comes just days after Trump upset nearly everyone in the country when he implied he believed Putin's assertion that Russia hadn't interfered in the presidential election — despite the U.S. intelligence community's consensus that they did, in fact, interfere — during a joint news conference with the Russian leader on July 16. Trump eventually walked back his comments, but not before a ton of people criticized him, including some of the ex-Obama officials he's taking aim at with his threatened revocations.
Brennan, most notably, went off at Trump, writing that his remarks were "nothing short of treasonous," before adding that the president is "wholly in the pocket of Putin."
Aside from the Russia drama, it's easy to think Trump might also just wanna continue scraping away at President Barack Obama's legacy. He's already dismantled a ton of his programs, including regulations for gun checks for people with mental illnesses and the Iranian nuclear deal. He's made efforts to dismantle Obama's signature legislation, the Affordable Care Act (ACA), also known as Obamacare, and the list truly goes on and on.
Granted, all my speculations are all just that — speculation. But you really can't put anything past Trump. Ya know?