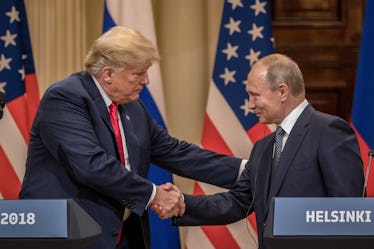 Even Republican Politicians Are Condemning Trump's Press Conference With Putin
Chris McGrath/Getty Images News/Getty Images
Heads were turning around the world as U.S. President Donald Trump and Russian President Vladimir Putin gave a joint press conference following their one-on-one meeting on Monday, July 16. During the press conference, Trump maneuvered around questions regarding whether he trusted the U.S. intelligence committee's reports on Russian interference in the 2016 presidential election. Back on Capitol Hill, politicians' tweets and responses to the Trump-Putin meeting left little room for interpretation.
The two leaders raised eyebrows when they addressed an international crowd of reporters in Helsinki, Finland on Monday evening local time after a momentous meeting between them, at which they brought up the topic of Russian interference in the election.
During the conference, Trump repeatedly denied having any collusion with Russia, touting his campaign's strength as the reason they won. Putin, for his part, denied not only that Russians had colluded, but that they made any interference at all in the election.
Asked point-blank by reporters whether he believed the U.S. intelligence agency's findings of interference or with Putin's denial, Trump deferred to Putin's denial. It was this deferral to Putin over U.S. intelligence agencies that caused a large amount of outrage from American politicians back home.
"President Trump's actions today were outrageous," Democratic Sen. Mark Warner of Virginia told CBS, regarding the president's press conference with Putin. Warner was among a spate of members of Congress who tore into the president's showing at the conference.
Even members of the GOP laid in on the president's remarks Monday. Sen. Bob Corker, Republican of Tennessee and chairman of the Senate Foreign Relations Committee, was clearly not happy with the president, according to The Hill. Corker said Trump's showing "made us look like a pushover," adding, "I did not think this was a good moment for our country."
Warner even called Trump's words a violation of his official duties, saying in a statement, "For the President of the United States to ... side with Putin ... is a breach of his duty to defend our country against its adversaries."
Sen. Marco Rubio, Republican of Florida, also weighed in, telling CBS, "The primary objective of Vladimir Putin was to sow permanent instability in American society and culture so that we are so busy fighting each other so we do not have time to take him on."
One of the most scathing criticisms came from Arizona Republican Sen. John McCain, who said, "Today's press conference in Helsinki was one of the most disgraceful performances by an American president in memory."
The list of senators and representatives who spoke out against Trump's remarks Monday went on.
The harsh condemnations of Trump weren't limited to members of Congress, though. Former CIA director John O. Brennan excoriated the president, calling his siding with Putin, "nothing short of treasonous."
Dan Coats, the director of national intelligence, reiterated the agency's findings in a statement, saying, "We have been clear in our assessments of Russian meddling in the 2016 election."
Monday's meeting came just three days after the FBI issued an indictment on Friday, charging 12 Russian nationals with multiple crimes pertaining to their alleged hacking of the emails of the Democratic National Committee (DNC) and a "sustained effort" to interfere in the electoral process. These indictments added to an ongoing total of 22 entities and individuals, mostly Russian, that had already been ensnared by the FBI's investigation to date.