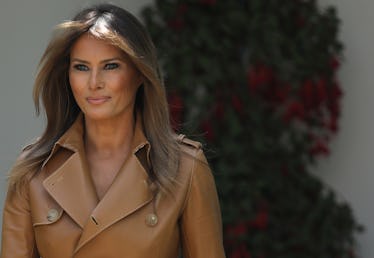 Melania Trump Won't Go To Meet Kim Jong-Un & I Can't Really Blame Her
Win McNamee/Getty Images News/Getty Images
Remember when Melania Trump rolled up to a G7 summit in Italy last year rocking a Dolce & Gabbana jacket that cost more than the average American makes in a year? Sorry folks, but this time around there'll be no first lady fashion decisions to mull over. The first lady is planning to skip on some of the biggest diplomatic events of the summer, including the G7 summit. And to boot, Melania Trump won't go to Singapore to meet Kim Jong-un — but I can't really blame her for that one. Who would want to do that?
President Donald Trump is off to Singapore for his highly-anticipated meeting with North Korean leader Kim on June 12 to try to negotiate the denuclearization of the Korean peninsula. But Stephanie Grisham, Trump's communications director, told ABC News on June 3 that the first lady won't be by his side.
Grisham confirms to Elite Daily by email that the first lady is not planning to be in attendance, but did not offer a reason why. "She will not attend the G7 and there are no plans for her to travel to Singapore at this time," Grisham says.
TBH, I can't blame her if she doesn't want to shake hands with Kim. The relationship between Kim and President Trump has been rocky at best, and it's no surprise that someone might choose to politely bow out of this meeting. Back in August 2017, the president responded to news of North Korean missile tests by threatening the small nation with "fire and the fury like the world has never seen," and it only went downhill from there. In September, President Trump gave a speech at the United Nations in which he referred to Kim by the nickname "Rocket Man," and threatened to "totally destroy" the country. Kim responded with a public statement calling President Trump a "mentally deranged U.S. dotard" and threatening to "tame [him] with fire."
In a New Year's Day address Kim rather bluntly insinuated that it would be very easy for him to wage a nuclear attack on the United States. "The entire United States is within range of our nuclear weapons; a nuclear button is always on my desk," he said. "This is reality, not a threat."
Trump's response, yet again, was to tweet the equivalent of "mine is bigger than yours." In January 2018 he wrote,
The two go back-and-forth like cats and dogs (or children on a playground). So is it surprising that the first lady might prefer to steer clear of that?
There was a possibility that President Trump wasn't going to show up, either. After agreeing to a June 12 summit, President Trump pulled out of the meeting on May 24 because a North Korean vice minister of foreign affairs called "Vice President Mike Pence a "political dummy," according to CNN. President Trump sent out a letter to Kim cancelling the summit but leaving the door open. "Some day, I look very much forward to meeting you," wrote President Trump.
But then on June 1, after a meeting with Kim Yong Chol, the top deputy to Kim, President Trump announced to reporters at the White House that the June 12 summit is back on, according to NBC. I'm not surprised, as President Trump clearly has his eye on a Nobel Peace Prize if he can strike a deal with Kim. Good luck with that.
It's something of a surprise that the first lady won't be at the G7 summit, though. The summit happens annually, and includes leaders from the United States, Canada, France, Germany, Italy, Japan, and the United Kingdom — known as the Group of Seven. They get together and discuss things that affect the world globally. Such as energy, international security, and the global economy. This year's G7 summit will happen in Quebec with the group on June 8 and 9. But then the president will go alone to his own summit with North Korea. Normally, Trump would be expected to show because the spouses of the other G7 leaders usually attend. It's not only customary but it is also a sign of diplomacy.
Even though Trump joined her husband at last year's G7 summit in Italy, it's not surprising that she won't be there this year, because she hasn't been anywhere lately.
Trump has not been spotted since May 10. On May 14, the White House announced that Trump was recovering at Walter Reed Medical Center in Washington, D.C. after undergoing a procedure for a benign kidney condition, according to ABC News. She returned to the White House on May 19, but has yet to make a public appearance. Which begs the question, where in the world is Melania Trump?
In her absence, rumors began to whirl surrounding the state of her health. The hashtag #whereisMelania even began trending on Twitter. On May 30, the first lady finally popped back up with a tweet calling out the media (wonder where she learned that) for speculating about where she is. She also assured everyone that she's doing fine. Trump wrote,
I see the media is working overtime speculating where I am & what I'm doing. Rest assured, I'm here at the @WhiteHouse w my family, feeling great, & working hard on behalf of children & the American people!
Grisham backed up Trump's statement to ABC News on May 30. Even though the public hasn't seen her, Grisham told ABC that Trump is hard at work in the White House. She said,
She's been involved in several internal meetings with staff all last week, and that continues this week. We've been going over initiatives and other long-term planning for events such as the congressional picnic and Fourth of July.
I could understand that, but even after that tweet, the first lady is still hiding out in the White House. The rest of the family, including Donald Trump Jr., Ivanka Trump, Jared Kushner, and Tiffany Trump all joined President Trump at Camp David this weekend, but Melania Trump was a no-show, according to the Daily Mail. Now she won't be attending the G7 summit either? I mean, it's a little odd.
I don't know about anything actually coming of the summits, but they will go on with or without the first lady. But hey there's still time to raincheck. I mean, if she wants to.