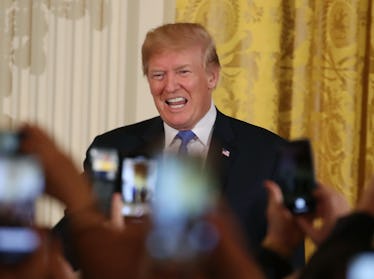 Donald Trump Thinks He Deserves A Nobel Prize, Because Of Course He Does
Mark Wilson/Getty Images News/Getty Images
The president isn't exactly known for peace. Instead, he's more known for his often polarizing rhetoric and harsh comments — like when he said North Korea should not threaten us or they would be "met with fire and fury like the world has never seen." But, whether he's peaceful or not, he made one thing clear during a press conference on May 9: Donald Trump thinks he deserves a Nobel prize.
Well, it's not that he thinks it, but, he says, everyone else thinks it. After a reporter at the White House asked him if he thought he deserved the prestigious prize, he said, with a laugh, "Everyone thinks so, but I would never say it." That's right. He would never say that he thinks he deserves a Nobel peace prize, except for the fact that he just did.
He went on to say that he has his eye on a different, but much bigger and more confusing award. "The prize I want is victory for the world," he said. "Not for even here — I want victory for the world because that's what we're talking about. So that's the only prize I want." I don't think they hand out "Winner: The World" awards, but OK.
By victory for the world he apparently meant denuclearizing North Korea, according to The Hill. His work on that front is the reason why some are saying he should be considered for the prize. Although it may feel like just yesterday Trump was threatening North Korean leader Kim Jong-un, he has made strides in denuclearizing North Korea and facilitating the peace process between the country and its southern neighbor. As recently as April 30, South Korean President Moon Jae-in even made a comment that Trump should "take the Nobel prize," according to Reuters. And back in early March, the Associated Press reported that Trump and Kim were planning to meet in May to discuss North Korea's nuclear weapons program. Reports have since emerged suggesting that the two will meet in mid-June.
Trump isn't the only one who thinks he deserves a Nobel for his work. 18 Republican representatives sent a letter on May 2 nominating the president for the Nobel Peace Prize. In the letter, the lawmakers said that the economic sanctions Trump placed on North Korea in February 2018 were largely responsible for the progress that's been made.
They wrote:
Since taking office, President Trump has worked tirelessly to apply maximum pressure on North Korea to end its illicit weapons program and bring peace to the region. His administration successfully united the international community, including China, to impose one of the most successful international sanctions regimes in history. The sanctions have decimated the North Korean economy and have been largely credited for bringing North Korea to the negotiating table.
It might not be that far-fetched, either. According to The New York Times, some laureates and historians say that Trump's often controversial remarks and activities wouldn't necessarily hurt his chances of receiving the prize. Rather, controversy is a big part of the prize, Berit Reiss-Andersen, the chair of the committee that awards prize, told The New York Times. "If it was a global consensus prize, it wouldn't have the relevance and the authority that it actually has today," she said.
If Trump did take home a Nobel prize, and the substantial amount of money that comes with it, he would be the fifth U.S. president to receive the honor. President Theodore Roosevelt, President Woodrow Wilson, President Jimmy Carter, and his predecessor, President Barack Obama all received the award. Obama was chosen for the award in 2009 for his work in international diplomacy, even though it was only about a year into his presidency. The New York Times noted that some of Trump's supporters had used the timeline for Obama's award as precedent for why Trump could get one this early in his presidency. But the Nobel secretary later said he regretted giving Obama the award, and most people were surprised when they did — including Obama.
Whether or not Trump will get one of the most prestigious awards in the world remains to be seen, but now at least we know what he (excuse me: everyone) thinks.