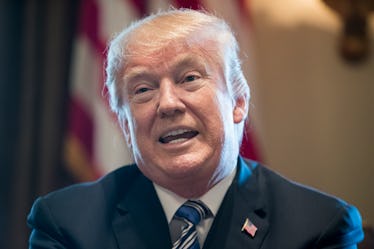 In A Total Change-Up, Donald Trump Announces He'll Meet With Kim Jong-Un
Pool/Getty Images News/Getty Images
Well everyone, maybe nuclear war isn't as inevitable as we all may have feared. According to the Associated Press, Donald Trump will meet with Kim Jong-un, the leader of North Korea, later this year. This marks the first American president to ever sit down a North Korean leader, per the AP.
On March 8, the AP reported that both Trump and Kim plan to meet in May of this year. The meeting will be about negotiating the end of Pyongyang's nuclear weapons program, according to South Korean and U.S officials. Chung Eui-yong, the South Korean national security director, spoke to reporters about the planned meeting. According to the AP, Chung has relayed to Trump that Kim is reportedly "committed to denuclearization" and claims that his country will refrain from nuclear tests in the future.
"He (Kim) expressed his eagerness to meet President Trump as soon as possible," Chung said. "President Trump appreciated the briefing and said he would meet Kim Jong-un by May to achieve permanent denuclearization."
This is definitely a pinnacle moment for both nations, as there's been a history of animosity between the U.S and North Korea for nearly seven decades. While the dynamic between Trump and Kim hasn't been exactly warm and fuzzy, maybe this meeting will soften things up between the two.
To be honest with you, I'm just trying to remain optimistic.
Trump surprised reporters on March 8 when he appeared in the White House press briefing room to reveal a sudden announcement. Naturally, reporters scrambled to get more information out of the president. When asked by ABC's Jon Karl whether this announcement pertained to negotiations with North Korea, Trump responded in the most Trump way ever, per the AP.
"It's almost beyond that," Trump told Karl. "Hopefully, you will give me credit."
Cue eye roll.
One can only hope this face-to-face meeting will go smoother than past interactions between Trump and Kim. The two world leaders have been trading insults back and forth from overseas for months.
On Aug. 8, 2017 Trump addressed the news that North Korea was developing nuclear-capable missiles by saying "North Korea best not make any more threats to the United States. They will be met with fire and the fury like the world has never seen." In turn, North Korea responded that same day by threatening Guam, a U.S. territory in the western Pacific. And things escalated when on Aug. 28, 2017 it was reported by the AP that North Korea had fired a missile over Japan. Then, on Sep. 19, 2017, Trump took his controversial comments to a whole new extreme during his first major address to the United Nations general assembly in New York when he referred to Kim as "little rocket man."
Well, name calling isn't scaring off Kim any time soon. The North Korean leader addressed Trump's threats during a New Year's address, and it did nothing to relieve my stress in the slightest.
He said,
The entire United States is within range of our nuclear weapons, a nuclear button is always on my desk. This is reality, not a threat. This year, we should focus on mass-producing nuclear warheads and ballistic missiles for operational deployment. These weapons will be used only if our society is threatened.
However, clearly these conversations are doing nothing but giving me major stress tension and resulting in a few more gray hairs.
Although I'm not the only one feeling this pressure. The threats have been so extreme that even the Center for Disease Control (CDC) planned to hold their monthly briefing about being prepared for a possible nuclear bomb attack on Jan. 16. However, to ease my impending heart failure, the CDC did release a public statement saying that the chance of a nuclear detonation is still "unlikely."
Thanks CDC, but I'm with Kourtney on this one.
Honestly, it might be the best idea to just bite the bullet, sit down, and hash this out (verbally) like the men they claim to be. Here's to hoping for a peaceful chat.