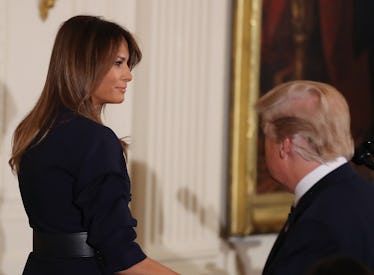 Melania Trump Isn't Joining Donald On A Weekend Trip & People Have Questions
Mark Wilson/Getty Images News/Getty Images
For the first weekend of June, President Donald Trump will be jetting off to Camp David, but it looks like he'll be flying solo. First lady Melania Trump isn't going to Camp David with her husband, according to reports. The news sparked anew a flurry of questions about the first lady's whereabouts and status. Elite Daily reached out to Stephanie Grisham, communications director for Melania, for comment on her weekend plans but did not receive a response at time of publication.
Friday, June 1 marks the 22nd consecutive day that the first lady has been out of the public eye since accompanying her husband to greet American prisoners released from North Korea on May 10. On May 30, Grisham told Elite Daily via email that Melania was doing well, adding, "She has participated in several internal meetings with her staff as she continues her work on behalf of children."
Some of Mrs. Trump's time out of the spotlight was understandable given her surgery on May 14, an embolization procedure said to be treating a benign kidney condition. Though the procedure was reportedly successful and without complications, Melania remained in the Walter Reed medical center throughout the week.
In an email to Elite Daily at the time of her surgery, Grisham had declined to say whether the surgery was planned or not, what, if any, medical condition might have prompted the surgery, and what the cause of any such condition might have been.
The news Friday that Melania wouldn't be going to Camp David only fueled the existing conversation around her absence. Grisham seemingly put to bed concerns that Mrs. Trump's absence from Camp David this weekend might have been due to her health, reportedly telling CNN on Friday that Mrs. Trump is "doing great" following the procedure.
For the last week, people have become so fixated on the first lady's absence that conspiracy theories began to emerge, prompting the first lady to tweet out about her absence. (Her response to the public's growing curiosity about where she was all this time was pretty salty.)
I see the media is working overtime speculating where I am & what I'm doing. Rest assured, I'm here at the @WhiteHouse w my family, feeling great, & working hard on behalf of children & the American people!
As news that the first lady wouldn't be joining her husband at Camp David this weekend developed, the conspiracy theories — not to mention jokes — only multiplied.
"Maybe ICE got Melania," writer Dennis DiClaudio joked. Even late-night host Conan O'Brein couldn't resist making light of the situation. "I can't tell you how much I've enjoyed hikin​g the Appalachian Trail these past 22 days with Melania Trump," O'Brien wrote in a tweet on Friday.
Author Sarah Kendzior, for her part, said in a tweet that she didn't believe Mrs. Trump even had the surgery to begin with, though White House comments and reports on the first lady's procedure have suggested otherwise.
Theories aside, her absence was noted. Comedian and actor Michael Ian Black weighed in on Twitter, writing, "I've been obsessing a bit over Melania's disappearance - and that's what it is. First Ladies don't just drop out of sight; they go to Memorial Day wreath layings, for example. Or accompany their husbands to Camp David. They are *in* the public view."
As the Palmer Report pointed out, Melania's absence was also turning into something of a streak, outlasting the tenure of former White House Communications Director Anthony Scaramucci.
This weekend is not the first time Melania will hang back while Donald spends the weekend elsewhere. Notably, amid a flurry of news around adult film star Stormy Daniels' lawsuit against the president, Melania stayed back in Mar-a-Lago during spring break in April while the president returned to Washington D.C.
The first lady reportedly is not a fan of the spotlight, unlike her husband, so it's not exactly surprising that she'd be away from it if given the opportunity.