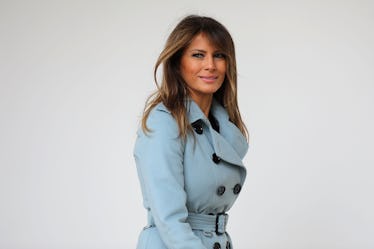 Melania Trump's Kidney Surgery Went Successfully, So We Can All Exhale
Chip Somodevilla/Getty Images News/Getty Images
On Monday, May 14, the first lady was under the knife for an operation on her kidney. According to CNN, Melania Trump's kidney surgery was a success, her spokesperson says. She is recovering in Walter Reed medical center near the nation's capital for the rest of the week. Elite Daily reached out to the White House regarding the first lady's surgery and condition.
President Donald Trump did not accompany his wife during surgery, CNN reports, but instead remained back in the White House. He plans to visit her later Monday, according to Stephanie Grisham, press secretary and communications director for the first lady.
"This morning, first lady Melania Trump underwent an embolization procedure to treat a benign kidney condition," Grisham added in her statement to press. "The procedure was successful, and there were no complications."
Embolization as a medical procedure is essentially an intentional blocking of certain blood vessels to restrict blood flow. The White House did not disclose what condition Mrs. Trump was afflicted by, but CNN points out that the first lady is only the fourth to have a serious operation during her tenure in the White House, following Nancy Reagan, Rosalynn Carter, and Betty Ford.
In an email to Elite Daily, Grisham declined to comment on whether the surgery was planned, when she was diagnosed with the condition, and if anything in her role or activities recently had contributed to the issue. She also didn't answer question regarding what the prognosis would be following the surgery or whether Mrs. Trump would be inhibited from any further activities or in her role in the White House.
The news of Melania Trump's surgery first came on Monday. That the White House kept the surgery under wraps was itself something of a feat in an administration that has been plagued by slips to the press.
"Having covered @FLOTUS and her world for more than a year, it is not surprising to me that her office has pulled off something as major as this news without a leak," tweeted CNN reporter Kate Bennett. "[I]t's interesting to think of this juxtaposed with the situation in the West Wing."
Mrs. Trump has been fairly active since her husband took office, and has had a particularly busy spring. She was in charge of running the administration's first state dinner on April 24, hosting the French president and first lady. She also launched her signature initiative, the Be Best campaign, just a week ago, on May 7.
Users wished the first lady well on Twitter.
As of 4:30 p.m. ET, the president had not tweeted about his wife's surgery, nor had any of his children.
The first lady's condition and impending surgery didn't appear to affect her holiday plans or festive spirit. "We had a wonderful celebration @Whitehouse today to honor some incredible military moms for #MothersDay," she posted on Mother's Day on Sunday. "My heart & continued prayers stay w/ all our brave military members. I'm proud to support @POTUS in today's signing to help increase opportunities for military families."
The first lady wasn't the only high-profile political figure undergoing a procedure today. Former Sen. Harry Reid on Monday also was due in for cancer-treatment surgery to remove a tumor from his pancreas, The Associate Press reports. The former Democratic leader received the procedure in John Hopkins Cancer Center in Baltimore, Maryland, and plans to continue with chemotherapy.
According to Bennett, Grisham also declined to comment on whether any of Trump's children — including Barron, his and Melania's 12-year-old son — had plans to visit the first lady in the hospital while she recovered.