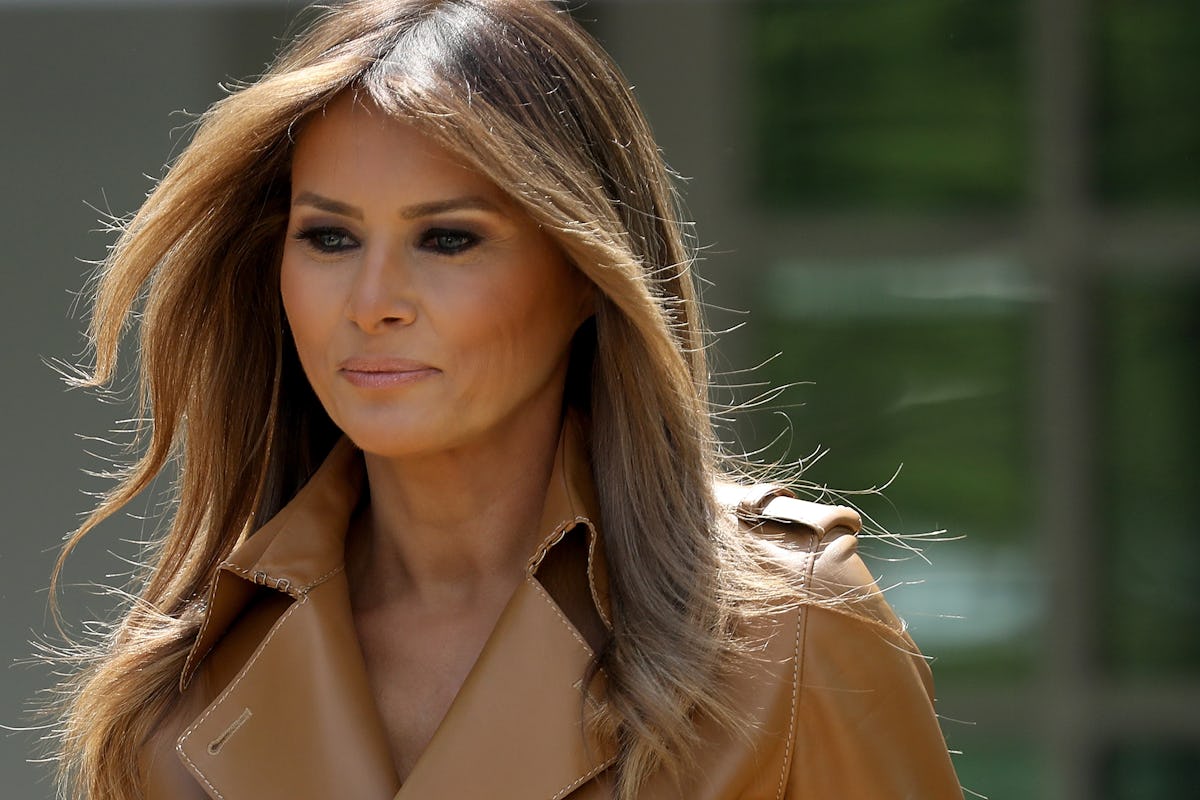 Melania Trump Heard Those Theories About Her Disappearing & She's Not Amused
Win McNamee/Getty Images News/Getty Images
It's been a long few weeks, hasn't it? On Monday, May 14, Melania Trump went in for an emergency kidney surgery and she's been MIA ever since, leaving everyone speculating on her whereabouts and what she's been up to as of lately. Although her husband, President Donald Trump, recently stepped in to diffuse the reports, insisting his wife was "doing great" post-surgery, she still hasn't made a public appearance — so naturally, people started coming up with their own ideas of where the first lady might be. Some people guessed that she'd moved back to New York while others claimed that she simply went into hiding. The speculation clearly ticked off the first lady, because Melania Trump's response to those conspiracy theories about her disappearing is seriously unenthusiastic.
On May 30, Trump posted a message to her Twitter page, stating that she's been exactly where she is supposed to be, and "working hard" on the behalf of her new children's initiative, Be Best, and the American people. She wrote,
I see the media is working overtime speculating where I am & what I'm doing. Rest assured, I'm here at the @WhiteHouse w my family, feeling great, & working hard on behalf of children & the American people!
So there. But I can't lie: the theories about her absence were pretty intriguing. Take a look.
L-O-L.
Trump shocked everyone when news broke on May 14 that she had undergone an embolization procedure to treat a kidney condition. However, her communications director, Stephanie Grisham, released a statement on Trump's hospitalization that same day, maintaining that the procedure went well and that Trump was looking forward to making a full recovery. She said,
This morning, first lady Melania Trump underwent an embolization procedure to treat a benign kidney condition. The procedure was successful, and there were no complications. Mrs. Trump is at Walter Reed National Military Medical Center and will likely remain there for the duration of the week. The first lady looks forward to a full recovery so she can continue her work on behalf of children everywhere.
Donald also attempted to ease concerns about Trump's health on Twitter, saying her surgery was a "success" and that the first lady was in "good spirits."
People were rightfully freaked out, though, if you ask me. Embolization procedures essentially help prevent or reduce blood flow from going to a tumor or abnormal growth, and considering there was never any indication that Trump was suffering from a medical condition, it seemed pretty serious. In an email to Elite Daily, Grisham declined to comment on whether or not the surgery was planned, when Trump was diagnosed with the health issue, and if anything in her role or activities recently contributed to the condition, which didn't necessarily help calm any of our nerves.
Before her surgery, though, Trump appeared to be doing just fine. On May 7, she even rolled out her first official initiative as first lady called "Be Best," in which she aims to help children build "social and emotional health" regarding issues like well being, social media, and opioid abuse. According to the San Francisco Chronicle, when speaking about her new campaign, she said,
As a mother and as first lady, it concerns me that in today's fast-paced and ever-connected world, children can be less prepared to express or manage their emotions and often times turn to forms of destructive or addictive behavior such as bullying, drug addiction or even suicide.
Her long-awaited campaign came more than a year after Donald took office, so I'm sure it really had to suck to have gotten sick once things started rolling.
It seems like Trump is feeling better than ever, though, so I bet we'll get that public appearance we've all been waiting on any day now. Here's to her for making a safe and speedy recovery!