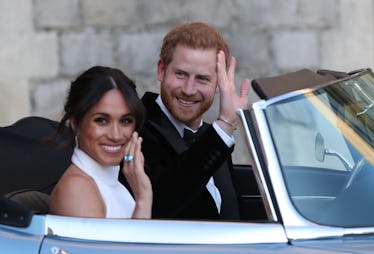 Meghan Markle's Wedding Nails Were A Subtle Nod To The Queen & You Definitely Missed It
WPA Pool/Getty Images Entertainment/Getty Images
It can't be easy joining the royal family, especially when your grandmother-in-law is an actual queen. Well, judging from Meghan Markle's wedding nails it looks like she and Queen Elizabeth II might have more in common than we thought. Nothing like a fresh manicure to bring some girls together.
According to E! News, Meghan Markle wore Queen Elizabeth II's favorite nail polish color, Ballet Slippers, from Essie. The subtle baby pink was a perfect addition to Markle's timeless look, and she definitely copped it on the cheap. A bottle of Essie's Ballet Slippers apparently costs $7.69 on Amazon, but honoring your grandmother-in-law while also looking fabulous? Priceless. In fact, this isn't the first time Markle has flaunted the pale pink nail polish for a special occasion. The former Suits star also rocked a coat of Ballet Slippers for her engagement announcement. Seeing that Queen Elizabeth has proudly worn the pink polish for around three decades, perhaps this a royal tradition that's more up Markle's alley?
In May 2017, Beauty Crew reported that Queen Elizabeth actually wrote to the nail polish company's founder Essie Weingarten to request a bottle of the light pink polish for a very special client, and has gotten a serious nail hookup ever since.
I foresee many nail painting parties in Markle and Queen Elizabeth II's future. Perhaps there will even be a pillow fight involved?
It's no secret that a nice coat of nail polish is the perfect accessory for any ensemble, and Markle absolutely glowed on her special day. The new bride completed her pale pink polish with two gorgeous gowns, and even though they were different looks, she rocked both of them.
On May 19, the moment we had all been waiting for actually happened. Markle and Prince Harry finally said "I do" at St George's Chapel in Windsor, U.K. in front of their friends and family. Just when I thought I couldn't get more emotional watching Markle walk down the aisle, it was when Prince Harry's whispered "you look amazing" that honestly did me in. Actually, scratch that, seeing Prince Harry wipe a tear from his eye at the altar is what had me sobbing uncontrollably.
I don't know about y'all, but I'm so upset I wasn't able to snag an invite to the royal wedding this year, or the wedding reception. The day of the wedding, a royal wedding guest spoke to People about Prince Harry's wedding reception speech, and relayed that it was a lightweight, cheerful toast in perfect Prince Harry style.
The royal wedding guest said,
It was very off-the-cuff, which was lovely. He promised that all the Americans wouldn't steal the swords and said, 'Please, when you leave, be quiet as you don't want to wake the neighbors,' which was quite fun. It was more than you would ever imagine it to be. It did feel like we were really part of their very special occasion. It just felt about the two of them, which was great.
I'm not surprised that Markle and Prince Harry made every guest feel right at home. Since the couple announced their engagement in November 2017, I've been completely obsessed with watching their fairytale wedding become a reality. One thing is for certain, Prince Harry and Meghan Markle isn't your average royal couple, and Markle definitely isn't the average bride. From her well-known work in women's advocacy groups to this being her second marriage, it's so nice to see that while royal tradition is exciting, it won't get in the way of true love.
Here's to a lifetime of happiness for these newlyweds. I can't wait to see what the future holds for you two.