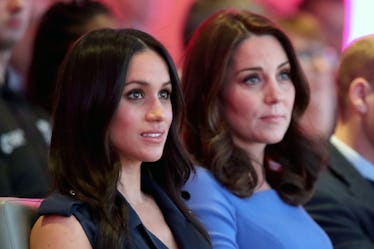 These Meghan Markle Quotes About #MeToo & Time's Up Are So, So Important
Chris Jackson/Chris Jackson Collection/Getty Images
There are a ton of reasons to love Meghan Markle, and until recently, I didn't know very much about her. Aside from knowing that she's an incredibly talented and gorgeous actress, and the fact that she's about to marry Prince Harry, I didn't realize how much (and how often) she's spoken out about women's rights throughout her career. Most recently, Meghan Markle's quotes about Me Too & Time's Up from The Royal Foundation Forum have made me realize that she is the voice that many of us women need in this world, and I now respect the hell out of her.
On Feb. 28, Prince Harry, Prince William, Kate Middleton, and Meghan Markle appeared on stage together, at the first yearly Royal Foundation Forum, per the Royal Foundation Forum website. The overall theme, which was "Making a Difference Together," set the tone for discussing some serious social and worldly issues.
During The Royal Foundation forum, Prince Harry and Markle explored why supporting movements like Time's Up and #MeToo are totally vital, and Markle's comments on both issues definitely did not disappoint. According to the Time.com article, Markle said that women need to "speak up" about sexual harassment, that they need to "listen" to each other, and that "men need to listen and speak up," as well.
Markle told the forum's audience,
Women don't need to find a voice, they have a voice. They need to feel empowered to use it, and people need to be encouraged to listen. We're seeing so many campaigns — #MeToo, and Time's Up. There is no better time than to really continue to shine a light on women feeling empowered and people really helping to support them, men included in that. It makes such a tremendous difference.
The Royal Foundation is a charitable organization run by Prince William, the Duchess of Cambridge, Kate Middleton, and Prince Harry, and per the Time report, this was Markle's first official royal engagement with the three of them. In addition to women's rights, the panel discussed other pressing problems, such as environmental issues, mental health, and even homelessness prevention. The Royal family created the Foundation, per the Royal Foundation's website, to further involve themselves with causes that are important to each of them, and TBH, it's super cool to see them using their platform in such a productive manner.
The video below gives a little more information, if you're interested:
This isn't the first time Markle's spoken out about women's rights, as she's apparently been an advocate on issues affecting women and girls for a while now. So if all her previous comments didn't make you totally fall head over heels for Markle, I'm not entirely sure what will. She speaks with a strong sense of empowerment, she knows that women are badasses, and she wants men and women to join forces against the pressing and (unfortunately) ever-prevalent issue of sexual harassment. And, as a fellow woman, (as well as a decent human being), I totally respect that message.
If Markle's strong and empowering stances on #MeToo and Time's Up haven't totally convinced you that she's a super real person, Markle also recently broke royal protocol earlier this month in the best way ever. On a trip to Edinburgh, Scotland, Markle and Prince Harry took a trip to Social Bite, which is a sandwich shop that donates money to important causes. At the sandwich shop, fans came bombarding them with love (obviously), which is where Markle broke some royal rules. But, TBH, nobody was actually mad about it. Even though it's against the rules to be touched by any members of the public as a member of the Royal Family, Markle was caught hugging her fans, when they reportedly told her that she's an inspiration to them. Her reaction, in my opinion, was so genuine and adorable, and in all honesty, it makes me like her ten thousand times more.
The bottom line is: Meghan Markle for President, 2020, guys... (but seriously).