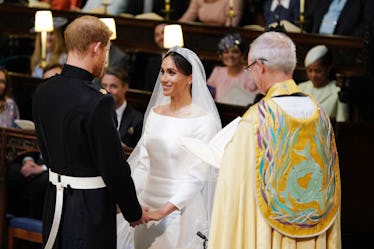 Prince Harry Whispered The Sweetest Thing To Meghan Markle At The Altar During Their Wedding
WPA Pool/Getty Images Entertainment/Getty Images
Prince Harry is officially off the market, folks. The wedding ceremony between he and Meghan Markle was truly one for the ages. As if anyone needed more proof that that this couple is truly head over heels in love, you might be wondering what Prince Harry said to Meghan Markle during their wedding ceremony. And the adorable moment between the couple is one of the highlights of the entire ceremony.
From the very start of the ceremony, the world could tell that Markle and Prince Harry were truly in love. There were a ton a special moments throughout the wedding day that gave this royal wedding more of a personal touch, but one in particular stood out among the rest.
Just as Markle finished her long walk down the aisle at St George's Chapel in Windsor, England, her husband-to-be quietly said what every bride wants to hear on her wedding day. Once Markle met her prince at the altar, Harry snuck in a compliment to his bride when he said, "You look amazing" to her when they locked eyes just before exchanging their vows.
Ugh. My heart just melts looking at Markle and Prince Harry during the entire ceremony. This little moment between the newlyweds during the ceremony just proves how in love they truly are. The sparkle in Prince Harry's eyes is all anyone needs to know to prove that this marriage is real and that it will last.
Not only did Prince Harry sneak in an adorable compliment to his bride, he also added in an "I'm so lucky" that just completely melted my heart, according to Buzzfeed. The rest of the ceremony was relatively cookie cutter, as far as royal weddings are concerned. But this moment was one of the things that made this marriage between Markle and Prince Harry truly stand out.
Another moment that was out of the ordinary for royal weddings was when Pastor Michael Bruce Curry addressed the congregation with a rousing and inspired speech on finding and harnessing the raw emotion of love. The very British affair was still sprinkled with hints of Markle's American roots, and the moment when Pastor Curry took to the podium at St George's Chapel was one of those perfect moments. "There's power in love. Love can help and heal when nothing else can. Love can life up and liberate for living when nothing else will. And the love that brings two people together is the same love that can bind them together," Curry preached to the royal wedding attendees.
The sermon was pretty unusual for a British royal wedding, but truly provided a beautiful and insightful moment for the happy couple and their guests. Markle and Prince Harry made the announcement that Pastor Curry would be delivering the address at their wedding in a statement on May 12. Pastor Curry was just one of the elements that was incorporated into this royal wedding that truly gave this union an especially personal touch. But no moment was better than when Markle and Prince Harry's eyes met following her parade down the church's aisle, and her husband-to-be made the world swoon with his adoring compliments to his future wife.
And this moment is all the proof I needed that tells me that this marriage is going to last. Whenever a bride and groom are able to share a intimate moment together during their wedding ceremony is something to be cherished — especially when it's on a stage as massive as a British royal wedding. Consider the newly minted Duke and Duchess of Sussex my official new favorite royal couple.