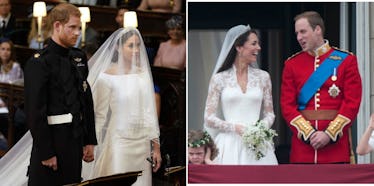 These Photos Of Meghan & Harry's Wedding Vs. Kate & William's Show Their Differences
Guys, how amazing was the gospel choir at the wedding a few moments ago? And the way Prince Harry was looking at Meghan? I'm not crying, you're crying. I literally would do anything to be at the royal wedding right now, and I low-key can't help but compare Prince Harry and Meghan Markle's wedding vs. Prince William and Kate Middleton's, because they're legit so different and obviously, each celebration is absolute perfection in their own unique ways.
It seems like just yesterday that Kate and William said their "I dos," but it's actually been seven years since the last royal wedding. No wonder why we're all literally glued to our TV and computer screens right now — another royal rodeo was well overdue, fam.
First things first, though, what's up with Meghan Markle and Prince Harry's wedding date not being declared a Bank Holiday? When Prince William and Kate Middleton got married, everyone in the UK got the day off to high-key sob alone in their rooms while watching the wedding (which is totally not what I'm doing right now, BTW). Sorry London, but this royal wedding happened on a weekend, which means typical 9-to-5ers had the day off anyway.
All I know is, if I were a Brit, and I had to work on the one Saturday that happened to overlap with the royal freaking wedding, I would totally call out sick so I could watch ~love prosper~. It's only the right thing to do, after all.
Anyway, On To Kate And Meghan's Dresses: All. The. Heart. Eyes.
Personally, I couldn't even imagine Meghan's dress living up to the absolute, drop-dead gorgeousness that was Kate's. Does anyone recall the perfectly feminine, lace dress designed by Sarah Burton for Alexander McQueen that Middleton wore? Girl, don't even get me started on that 9-foot-long train. However, Givenchy clearly came in clutch for Meghan, because I'm not saying her dress is better than Kate's, but boy was that elegant off the shoulder look a show-stopper the minute she walked out.
Markle teased us a bit back in 2016 when she described her idea of the perfect wedding dress in an interview with Glamour, but what she's wearing right now is actually pretty on-par with her past description, even in comparison to Kate's.
When she was asked in the 2016 Glamour interview about her "perfect wedding dress," the former Suits star said,
I have the luxury of wearing beautiful pieces of clothing every day for work, so my personal style—wedding or not—is very pared down and relaxed ... Classic and simple is the name of the game, perhaps with a modern twist. I personally prefer wedding dresses that are whimsical or subtly romantic.
Well Meghan, classic and simple are just the words I would pick to describe this total stunner of a dress, and now, both you and Kate are my number-one inspos for my future wedding.
But, enough about fashion; let's talk about how different Prince Harry and Meghan Markle's wedding venue is in comparison to Prince William and Kate Middleton's.
The Venues
#TBT to the vast and luxuriously beautiful church, Westminster Abbey, where William and Kate's wedding bells rang all those years ago. I initially thought Prince Harry would follow in his brother's footsteps and tie the knot with Meghan in this world-renowned church, but it was actually revealed before the big day that Meghan and Harry would be getting married in St George's Chapel at Windsor Castle, which isn't quite as large as Westminster Abbey, but as we can now see, boy is this place absolutely gorgeous in its own right.
Again, just like the dresses, I don't think I would say one of these venues is better or worse than the other; they're both totally stunning, and I just know they would be even more breathtaking in person. Serious question, though: Is everything this beautiful in England? If so, I need to book my flight ASAP.