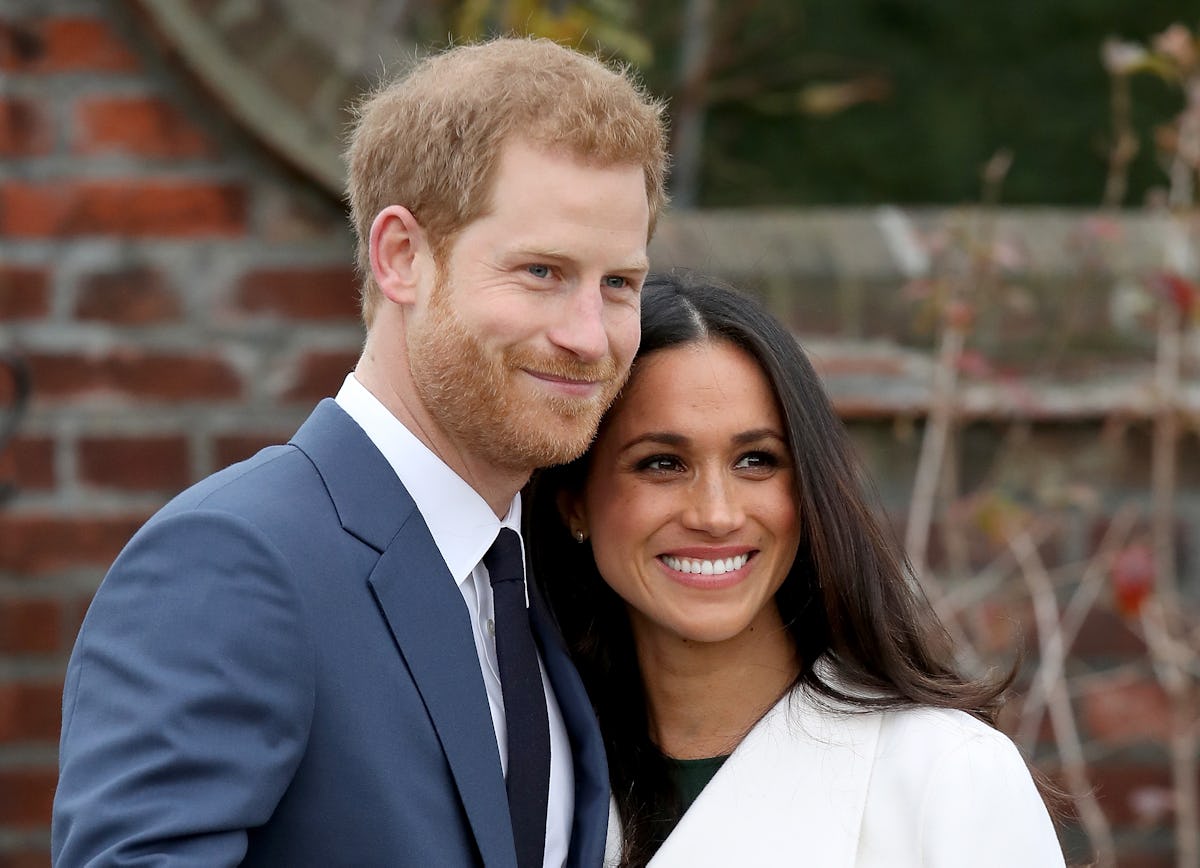 Meghan Markle Is Basically Getting Princess Lessons From Prince Harry & It's Everything
Chris Jackson/Getty Images Entertainment/Getty Images
Meghan Markle and Prince Harry are officially getting married on May 26, 2018! Now that she's going to be a duchess come May, Markle's got to learn the tricks of the trade of royal life. In order to do so, she's reportedly being tutored by her fiancé. Yup, Meghan Markle is basically getting princess lessons from Prince Harry. It's like if The Princess Diaries were real, except not so offensive that they have to change what Markle looks like and Prince Harry is Julie Andrews. Meghan Markle's princess lessons from Prince Harry include the basic dignitary things you'd expect: how to address diplomats, how to address other royals, and yes, even how to curtsy properly.
Royal expert Katie Nicholl told TMZ that Markle is going to have to learn royal dining etiquette, proper behavior for state dinners, and the ins and outs of royal fashion. She can't, according to TMZ, wear black whenever she wants. Royals are apparently only allowed to wear black in times of mourning, so funerals and the chunk of time before and after. Princess Diana made waves once when she broke that rule and wore a black gown to an event, and honestly, I don't blame her. Literally 90 percent of my wardrobe is black clothes, so this rule really hits me hard. I used to think being an English royal was the coolest sh*t ever, but if they can't wear black, I'm out. Sorry to all the royals who have been pining for me! I'm just a heartbreaker that way!
Another thing Meghan Markle probably can't have — other than an all-black wardrobe? Adult bridesmaids.
Yup, another royal expert, Marlene Koenig, told Town & Country that it's unlikely any of Markle's famous friends will be permitted to be her bridesmaids at the spring wedding. Markle is good pals with Serena Williams, Priyanka Chopra, and her Suits co-star Sarah Rafferty, but according to Koenig, royals traditionally don't have adult bridesmaids like we do in the United States. Most royal bridal parties consist of kids, in fact. So it's more likely the Prince George and Princess Charlotte will be in Prince Harry and Meghan Markle's bridal party than anyone else. Koenig told Town & Country,
Most royal brides do not have adult bridesmaids. It would be unusual for a royal bride to have a woman in her late 30s as a maid or matron of honor. The Duchess of Cambridge having her sister, Pippa, was unusual. I would be less surprised, however, if one of [Meghan's] friends read a lesson during the service.
Yes, my dream of seeing Serena Williams wearing a fascinator hat and standing next to Markle in her ballgown is now ruined. No, I don't want to talk about it.
Prince Charles announced Prince Harry and Meghan Markle's engagement on Monday, Nov. 27 in a statement from Clarence House (his official residence).
It read,
His Royal Highness The Prince of Wales is delighted to announce the engagement of Prince Harry to Ms. Meghan Markle. The wedding will take place in Spring 2018. Further details about the wedding day will be announced in due course. His Royal Highness and Ms. Markle became engaged in London earlier this month. Prince Harry has informed Her Majesty The Queen and other close members of his family. Prince Harry has also sought and received the blessing of Ms. Markle's parents. The couple will live in Nottingham Cottage at Kensington Palace.
By the way, have you seen the ring?
Wowza, that's a pretty one. According to Us Weekly, the middle diamond was sourced in Botswana, a location with special meaning to the couple (they spent their first vacation together there, and it's reportedly where they ~fell in love~). The surrounding two stones are from Princess Diana's jewelry collection, and I'm not sobbing, you are. Prince Harry reportedly designed the ring himself, and I can handle none of it. Now leave me alone so I can have a good cry.