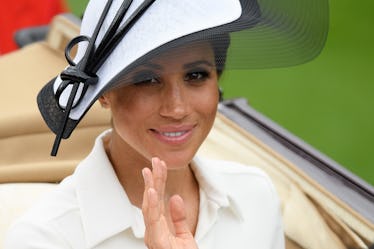 Meghan Markle Changed Up Her Brows At Royal Ascot & This New Style Is So Refined
Leon Neal/Getty Images Entertainment/Getty Images
First, Meghan Markle made me want freckles. Then, she had me stocking up on hair ties and bobby pins to try my hand at the Markle messy bun. Now, she's graced the world with yet another big beauty moment: Meghan Markle's new brow style has arrived, and as usual, it's perfection.
Every year, the royals attend a horse-racing event called the Royal Ascot, and usually, the eccentric hats and fascinators are the biggest style statement-makers of the day. However, this year, all eyes were on the new Duchess of Sussex and her brows, and many quickly realized they looked a little different than usual.
If you've been too busy studying the intricacies of her messy bun to notice her standard brow shape, allow me to remind you just why they're so fantastic. Much like the rest of her no-makeup makeup routine, Markle's brows have typically been kept very natural as of late. Although I'm convinced she'd rock it, I'm equally confident that we will never, ever see this royal with Instagram brows. In an interview with People, Markle's personal brow stylist, Sherrille Riley, shared the secret to Meghan's classic brow. As it turns out, the style is inspired by brow goddess Audrey Hepburn: 'The Audrey' is Markle's brow treatment of choice, and the result is an ultra-natural yet refined finish.
Riley tells People that "The Audrey" brow treatment is available at the Nails and Brow salon in Mayfair, London, costs around $65, and has been a favorite of Markle's since she started going to the salon in 2016. All about accentuating natural features, Riley describes the process as a combination of "maintenance, tinting and threading and a bit of tweezing," and it can totally be done at home with the right tools. "Less is more" is the brow mantra shared by Markle, Hepburn, and their respective fanbases, which is why Markle's brows at Royal Ascot made waves for being ever-so-slightly different than her usual.
On the day of the Royal Ascot, Markle's brows looked noticably more defined and slightly darker. Why go for a bold brow on this particular day? Maybe she was worried a lighter look would go unnoticed under the brim of that endlessly gorgeous, black-and-white, swooped Philip Treacy hat. As if.
I'm so here for a slightly darker tint amping up Markle's brow game, but I have to admit, I'm pretty glad she didn't do much to alter the shape. "The Audrey" frames her face perfectly. In regards to the shape, Riley took to Instagram last year to explain why exactly it suits Markle so well: "You'll notice that her brows are straight and archless, lifting slightly upwards towards the end of her brows," she wrote. "This helps to lift her eyes whilst balancing her features."
When it comes to filling in Markle's brows, Riley insists a brow pencil is all that's necessary and opts for the Beauty Edit Brow Filler Pencil (£20, or about $26, nailsandbrows.me) in the shade "Dark Dahlia." She also mentions that growing the eyebrows out is the first step in achieving Markle's look, so if you, too, suffered from an over-plucking quarter-life crisis, I suggest stocking up on a growth serum. The Lashfood Browfood Phyto-Medic Eyebrow Enhancing Serum ($90, lashfood.com) is a personal favorite of mine, and believe me, the price tag is worth it for the natural ingredients, not to mention the bomb results. If you're looking to switch between "The Audrey" brow and Markle's new darker Royal Ascot look, a dual-sided pencil that features a light and dark shade, like Lashfood's Ultra Fine Brow Pencil Duo ($24, lashfood.com), could be your new holy grail product.
With all this in mind, I now officially need to take the rest of the day off to practice transforming my newly mastered "The Audrey" brows into their new bolder counterpart, "The Meghan at Royal Ascot." It might not have the same ring to it, but damn, it looks good.