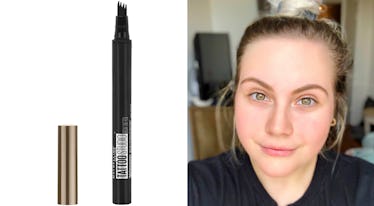 I Tried Maybelline's Tattoo Studio Brow Tint Pen & It's The Perfect Dupe For Microblading
Courtesy of Maybelline // Theresa Massony
As I sat down in the chair to get my very first tattoo, I could hear my mom's voice getting bigger and bigger inside my head: "Why are you doing this? You know that's permanent, right?" Now, six years and many tattoos later, and I guess you could say the thought of permanence doesn't exactly scare me... well, not always. The one kind-of tattoo I still haven't gotten over my fear of? Microblading. IDK why, but the thought of needles on my eyebrows freaks me out a bit. However, Maybelline's Tattoo Studio Brow Tint Pen may be the perfect solution to getting that natural, yet ultra-defined, full-brow look, you know, without a bunch of needles in your skin.
What makes this particular brow product unique is the four-prong applicator. Once photos of the Brow Tint Pen became public, many people immediately likened the tip to a microblade, which features several needles lined up on a slant, designed to inject ink into your skin semi-permanently. For those of us not ready for the needle, though, the Tattoo Studio Brow Tint Pen's prongs allow the same opportunity for thin, natural-looking, hair-like strokes, but with long-lasting (but not semi-permanent) ink that sits on top of your skin. This is a commitment-phobe's dream, I'd say.
Maybelline Tattoo Studio Brow Tint Pen, $9.99, available nationwide in June 2018
In addition to lasting you all day, the Brow Tint Pen formula is also smudge-proof, so you can wick your worries of summer sweat ruining your brows away. According to the brand's website, using the applicator is incredibly easy. You'll want to start with clean brows, so you can see where they need the most filling (if you feel like they need that, of course). You should then angle the applicator semi-vertically and beginning drawing with the applicator at the base of your brow, using short, quick motions upward.
As you move down your brow, a good technique to try is to drag the applicator in the direction your hair is growing. As you get to the end, slowly taper off to a point with the applicator to shade the tail-end of your brow. And voila! Natural-looking, yet still filled-in brows that didn't require a low-key face tattoo! Cool!
YouTube beauty vlogger Tina Yong tried out the product on her YouTube channel when the pen became available to customers in Singapore. As you can see in her video above, figuring out the best way to apply the product will likely take a bit of practice and patience. While the clean strokes didn't necessarily hold up all day for Yong, overall the pen's color did have pretty strong staying power on her brows, even if the definition of the strokes were a little blurred by the end of the day.
I was lucky enough to get my hands on a Tattoo Studio Brow Tint Pen myself to put this baby to the test, and let me just say, the results were a lot better than I expected them to be.
For reference, here are my brows, completely clean and without any product:
On my own brows, I decided to try out the lightest shade. While my own eyebrows aren't necessarily that light, I noticed that the four colors that the Brow Tint Pen comes in (Blonde, Soft Brown, Medium Brown, and Deep Brown) dried slightly darker and cooler than when they were wet. So because I wanted a more natural brow, I opted for shade 350 ("Blonde"). These are the four shades from lightest to darkest swatched on my ghostly complexion:
Similar to Yong's experience, it took me several tries to find the right angling for holding the applicator and which direction to swipe in. Eventually, I swiped almost straight up at the start of my brows, and eventually began pulling the applicator in the direction of my hair growth, as advised. Here's what that looked like on one brow:
As you can see, the difference is subtle and incredibly natural-looking. Seriously, it just looks like I sprouted a few more eyebrow hairs, which is actually what I wish for every night before I go to bed. Bless.
After, I did the same process for my other eye. This one was a bit more difficult, as I ended up having to do some weird arm contortion to get the angling just right, but I'm not a quitter, so I said "F*ck my joints!" and made it work. Here's the final brow ~lewk~:
All in all, Maybelline's Tattoo Studio Brow Tint Pen made my brows appear much fuller, which is a dream for someone like me, who over-plucked their brows as a teen for many, many years and has trouble growing them back now. The formula was quick to dry, glided on smoothly, and didn't look too heavy, even when I layered on a few strokes in one area.
Unfortunately, if you're itching to get your hands on this product, you'll have to wait just a liiiiiittle bit longer, as it doesn't launch nationwide until June 2018. But trust me, this Brow Tint Pen is worth the wait.