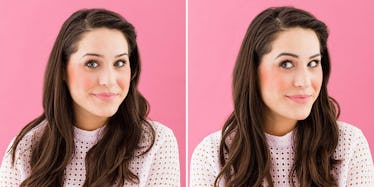 This Surprising Makeup Product Is The Secret To Long-Lasting Bold Brows
Brit + Co
Brows are one of the most important features on your face.
After taking the time to achieve a super strong brow game, there's nothing worse than looking in the mirror to see your beautiful brows looking weak AF thanks to products that just won't stay in place. Not only is it frustrating, it's not cute.
I'd heard adding waxy concealer to bare brows before filling them in would actually make made-up eyebrows last extra long. I had to give it a try.
The concept of applying concealer to your brows isn't dissimilar to using a primer before putting on your foundation — it builds a clean base that color can live on top of, keeps the color vibrant and enduring.
As an eyebrow enthusiast, I set out to put this beauty claim to the test.
Step 1: Apply a waxy concealer to your bare eyebrows.
The first step is to apply a thick, waxy concealer to your bare eyebrows. I used Maybelline Cover Stick Corrector Concealer because of its texture and stickyness.
Avoid liquid concealers for this hack, because the consistency won't provide a tacky barrier like waxy ones will. I find that those in stick formulas tend to work the best.
Step 2: Fill in your brows.
Now, fill in your brows as you normally would. I personally think powders and brow gels work best with a concealer primer, but use whatever works best for the look you want.
You'll notice that the product will really hold to the concealer, so be extra careful as you fill 'em in.
Check out the before and after.
You can see the difference between having bare brows (left) and filling them in (right) with a base of concealer in the photo above.
As for the technique's staying power, I tried this hack in the morning, and by the time happy hour rolled around, my brows were still on fleek. I would definitely turn to this beauty hack any time I need long-lasting brows.