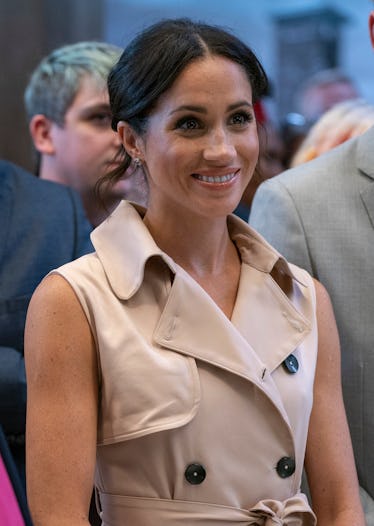 Meghan Markle Brought Back The Messy Bun & Her Whole Look Is So Relatable
WPA Pool/Getty Images Entertainment/Getty Images
Meghan Markle could wear the exact same thing every day and I'd still be entranced by her outfit. Luckily, the Duchess of Sussex does no such thing. Meghan Markle's latest look at the Nelson Mandela centenary exhibition in London was a beautifully monochromatic blush look, complete with her signature messy bun. Needless to say, the whole ensemble was a royal winner.
The Nelson Mandela centenary exhibition was held at the Southbank Centre's Queen Elizabeth Hall, and it marks what would have been Mandela's 100th birthday on July 18, 2018. Curated by the Apartheid Museum in South Africa, the exhibit was staged in London because the former South African president had strong ties to the British royal family. Mandela reportedly called Queen Elizabeth by the nickname "Lizzie," and Prince Harry has spent a significant amount of time in South Africa visiting Mandela's former prison cell and other important sites. It was therefore fitting that Prince Harry and Markle helped to open the exhibition honoring the former leader.
While at the exhibition's opening, Markle, unsurprisingly, looked exquisite. This event had a more casual dress code than past recent outings that the Duchess has attended — meaning no hats required. Markle took that in stride and was the epitome of causal chic, messy bun and all.
Female members of the British royal family are required to wear hats to all formal daytime events. When attending such activities, Markle's hair with a hat is usually pulled back into a clean, sleek bun. When going on more casual outings, such as Wimbledon with Kate Middleton, or this Mandela exhibit opening, Markle tends to wear her hair in an intentionally mess bun.
Just like Markle's wedding day hair, her messy buns are meant to be partially undone. Look at that tendril framing her face — it's too magnificent to not be intentional. And yet, it's technically still the same messy bun hairstyle that I, too, wear on an almost daily basis. To think, I could practically be a Duchess!
Markle's messy bun was the first thing that I noticed, but it was simply a gateway into the rest of her amazing look. The Duchess wore a blush pink House of Nonie Sleeveless Trench ($823; houseofnonie.com) which can be worn open as a sleeveless jacket or, as Markle did, buttoned up as a dress itself. House of Nonie is a Canadian brand, a country which Markle has ties to as she used to film Suits in Toronto and lived there for many years.
For a similar look, check out the Boohoo Frida Sleeveless Military Blazer Dress in Pink ($18; boohoo.com).
The former actress paired her trench dress with Dior D-Stiletto High-Heeled Shoe in Nude Patent Leather (dior.com for purchasing information) and a Mulberry Clifton Clutch in Rosewater ($790; mulberry.com).
For jewelry, Markle wore a Zofia Day Open Diamond Cuff ($1,200; zofiaday.com), a matching gold ring (perhaps from the same designer) and a pair of Birks Bee Chic White Quartz Silver Stud Earrings ($270; maisonbirks.com).
Harry's look deserves honorable mention, but the prince is no doubt overshadowed by his leading lady.