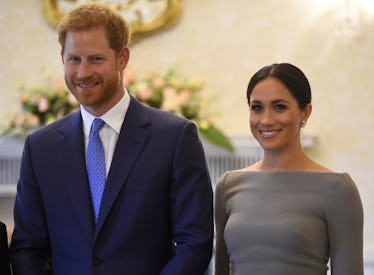 Meghan Markle & Prince Harry Reportedly Adopted A Dog As A Furry New Family Member
WPA Pool/Getty Images News/Getty Images
According to reports, the royals have a new, very adorable addition to their family. A furry one, that is. Apparently, Meghan Markle and Prince Harry adopted a dog, as they welcomed their furry friend as the newest member of the Duke and Duchess of Sussex's royal family. Elite Daily reached out to Kensington Palace for comment on the report that Meghan and Harry adopted a dog this summer but did not hear back at the time of publication.
On Saturday, Aug. 25, People confirmed that there's now a fluffy bundle of joy in Markle and Prince Harry's household. The royal canine, which the publication says is rumored to be a labrador, was reportedly introduced to the couple sometime in "early summer." Elite Daily reached out to Kensington Palace to confirm the breed of the reportedly adopted dog but did not hear back at the time of publication. Even so, the pooch is reportedly already a regular companion on all of their summertime excursions.
According to an inside source, the pup has been by the newlyweds' side during their visits to England's scenic Cotswolds as well as the couple's home at Nottingham Cottage on the grounds of Kensington Palace in London. Surprisingly, the public has yet to see the new family member during the Duke and Duchess of Sussex's excursions around the city, so I'll have to content myself knowing that they have a furry new companion scampering around their cottages and romping around the English countryside with them.
I mean, if you just look at how well the newlyweds get on with the adorable doggos of the world, it's no wonder they would want to adopt a pooch of their own.
You get the picture.
Before marrying Harry, Markle had a couple pups to call her own. There's no word yet on what Markle's Beagle, Guy, thinks of his new canine friend (whose royal moniker has not yet been revealed), but I'm assuming he's happy for the company, especially since the former Suits star had to part with her rescue dog Bogart when she made the move to London back in November (Bogart is happily settled with some of Markle's pals in Los Angeles). Across the pond, Guy seems to be settling into royal life quite nicely — he was a part of her hair and makeup team on her wedding day, after all — and something tells me he'll have no trouble showing the newest addition the ropes.
Although Markle and Harry technically already have a dog, Guy, adopting one together after getting married is basically a royal rite of passage. Back in 2012, newlyweds Kate Middleton and Prince William were spotted with an adorable black Cocker Spaniel puppy named Lupo. Apparently Lupo's mom is Ella, a dog that Middleton's mom Carole owns, and she got her moniker from the Duchess's paternal great-grandmother, Olive Christiana Lupton, so there's an extra sweet family connection there. And when Prince George was born, the two became fast friends.
Unfortunately, there's no word yet on whether Markle and Harry's new dog bears a special lineage or a meaningful name, but I wouldn't be surprised. A spokesperson replied to requests for information about Lupo in 2012 by saying it was a "private matter," per an article by The Daily Beast, so something tells me that you'll have to do any and all royal pup sleuthing on your own.
Summer is almost over, and Markle and Harry have a busy fall ahead of them with their first royal tour. In October, they'll be flying to Australia for the 2018 Invictus Games before making their way to Fiji, the Kingdom of Tonga, and New Zealand. Only time will tell if their royal pooch joins them on their international adventures, but it's more likely that he or she will be staying at home during the couple's busy schedule of events. The newest pooch likely won't be lonely though, because from the looks of his fun times with Lupo, something tells me that Prince George would make a pretty good dog sitter. At the very least, he'll could give the pup some good play time while Markle and Harry are away.