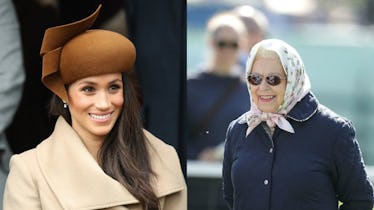 Meghan Markle's Dog Rode With The Queen To The Wedding & Now I'm Jealous Of A Canine
Chris Jackson/Getty Images Entertainment/Getty Images & Dan Kitwood/Getty Images Entertainment/Getty Images
There's nothing quite like a few puppy cuddles to ease your nerves before tying the knot. Clearly the new bride agrees. Meghan Markle's dog rode with the queen to the wedding, and this is taking (wo)man's best friend to a whole new level.
On May 18, just a day before the royal wedding, Twitter completely blew up when photos surfaced of Markle's beagle, Guy, riding in a car while sitting right next to Queen Elizabeth II. I never thought I would reach a point where a dog was living a better life than me, but it looks like we've gotten there. Even though I may be a little bit salty, I am happy to see that Guy was able to make a very special appearance. Sadly, Markle's other dog, Bogart, wasn't able to take part in royal festivities, but I'm sure he was there in spirit.
In November 2017, The Daily Mail reported that Markle would have to say goodbye to her labrador-shepherd mix Bogart since he was "too big or too old" to travel overseas. Naturally, this was heartbreaking for the dog mom, but she spoke to BBC and told the publication that Bogart is staying with a few of her close friends.
She said,
I have two dogs that I've had for quite a long time, both my rescue pups. And one is now staying with very close friends and my other little guy is, yes he's in the UK, he's been here for a while. I think he's doing just fine.
I'd say that Guy is doing just fine too, and living the total royal treatment.
The decision to leave Bogart couldn't have been easy, especially since it's no secret that Markle has a very special relationship with her dogs. According to The Daily Mail, Ellen DeGeneres of all people was the one to convince Markle to adopt the labrador-shepherd mix. Markle relayed to the publication that the television host urged her to "take the dog."
"She turns around and comes and taps on the window glass and she yells 'Take the dog!'" Markle said. "And so I brought him home. Because Ellen told me to."
Oh Ellen, will you ever stop being such a joy in everyone's lives?
Even though Bogart might still be in the states, plans were immediately underway to transition her beagle, Guy, over the Atlantic. In November 2017, a Kensington Palace spokesperson spoke to Page Six about Markle's plan to move her pup to the U.K.
"Miss Markle is very fond of her dogs, and any decision about moving a dog over the ocean will have lots of complexity to it," the spokesperson said.
Sure there's a lot of complexity to overseas travel, but I had no doubt that Guy would be able to handle it. Strangely enough, Markle and Guy's story is just as much a fairytale as her and Prince Harry's. According to The Guardian, Markle adopted her beagle in 2015, just as he was about to be put down by a shelter in Kentucky. Apparently the precious boy was discovered walking in the woods alone, and no one was willing to take him in. This is paw-sitively an actual Cinderella story.
No one should be surprised that Queen Elizabeth II was more than willing to share her space with the royal beagle. The matriarch is well known for her huge love of Corgis, and since her last pup, Willow, died in April at the age of 14, I think it's great that the queen is enjoying some much needed puppy love.
I can't wait to see all the tea parties Guy will be enjoying during his stay in the U.K. I think it'll be absolutely smashing.