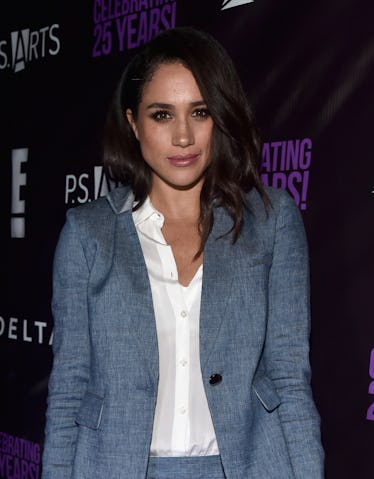 Meghan Markle Has To Leave Her Dog Behind To Move To The UK & Our Hearts Are Breaking
Alberto E. Rodriguez/Getty Images Entertainment/Getty Images
Sometimes, relationships require a little bit of sacrifice. Becoming half of a royal couple requires an insane amount of sacrifice. While Meghan Markle will be gaining a spouse in Prince Harry, she will also be kissing goodbye to a lot of things from her previous life. Saddest of all — Meghan Markle's dog, Bogart, will be left behind when she makes her move to the United Kingdom. If you're having shortness of breath over this news, grab a paper bag to breathe into and sit back for all the details.
According to Daily Mail, Markle is the mom of two adorable rescue dogs. Bogart is a labrador-shepherd, and Guy is a beagle. While it hasn't been confirmed why Bogart did not make the cut, Guy is reportedly already legally living in the UK after being microchipped and receiving the proper vaccinations and blood tests. Fan assumptions have pointed to the idea that Bogart may be "too big or too old" to be able to be transported overseas. During Prince Harry and Meghan Markle's first interview as an engaged couple, Markle told the BBC,
I have two dogs that I've had for quite a long time, both my rescue pups. And one is now staying with very close friends and my other little guy is, yes he's in the UK, he's been here for a while. I think he's doing just fine.
Reportedly, Guy is "living very happily" with the couple, and I'm sure Bogart is also doing just fine with Markle's close friends.
Obviously, the decision to leave Bogart wasn't easy. According to The Guardian, the decision was very complex. As reported by Page Six, a spokesperson for Kensington Palace said,
Miss Markle is very fond of her dogs, and any decision about moving a dog over the ocean will have lots of complexity to it.
Strangely, it was actually Ellen DeGeneres who convinced Markle to adopt her first dog, Bogart, according to Daily Mail. The actress recounted the encounter between the two at an animal shelter. She said,
She turns around and comes and taps on the window glass and she yells 'Take the dog!' And so I brought him home. Because Ellen told me to.
If that doesn't add an even more lovable edge to Bogart, I'm not sure what does. Having to leave her dog is devastating, but that's not the only thing Markle will be leaving behind as she begins this new chapter in her life.
Another big change is that Markle has decided to leave her role as Rachel Zane on Suits after seven seasons. USA Network released a statement congratulating Markle on Nov. 27, one day after the engagement news was announced. The statement read,
From all of us at USA Network and Universal Cable Productions, we want to send our most heartfelt congratulations to Meghan Markle and Prince Harry on their engagement. Meghan has been a member of our family for seven years and it has been a joy to work with her. We want to thank her for her undeniable passion and dedication to Suits, and we wish her the very best.
A seven season run is a great streak for any show, but Markle says she's not viewing the change as a loss.
She said in the interview with BBC,
I don't see it as giving anything up. I just see it as a change. It's a new chapter, right? And also, keep in mind, I've been working on [Suits] for seven years. We were very, very fortunate to have that sort of longevity on a series… I've ticked this box, and I feel very proud of the work I've done there, and now it's time to work with [Harry] as a team.
The newest royal couple seems like they're going to make an amazing pair. Markle will be making sacrifices, but with that will come a lot of amazing new things. Best of luck to the newly engaged couple.
Check out the entire Gen Why series and other videos on Facebook and the Bustle app across Apple TV, Roku, and Amazon Fire TV.