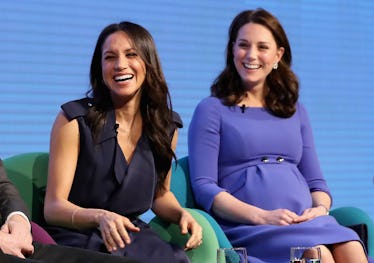 Meghan Markle & Kate Middleton's Body Language Reveals A Lot About Their Friendship
Chris Jackson/Getty Images Entertainment/Getty Images
Let's talk body language. On the morning of Wednesday, Feb. 28, the Royal Foundation Forum took place, marking the first official public appearance of Prince William, Kate Middleton, Prince Harry, and Meghan Markle all together. The four have been through other family outings together, but this was the first royal event they've ever attended as one big team. We've spent so much time analyzing our own relationships and the ones from our favorite sitcoms, but with an exciting new engagement up in the mix, I think it's important that we study up on Meghan Markle and Kate Middleton's body language, too. A lot can be revealed about the bond between these two future sisters-in-laws, just from what we can see on the screen.
Being royal has to be a lot of pressure. It takes practice to be in the spotlight, I'm sure of it. But, when you're doing it all together, and have a solid support system, it's seemingly much more of a breeze. I mean, I'm oh-so-average, but in my opinion, Markle is doing mighty fine at fitting in, and seriously winning the fashion game while she's at it.
Elite Daily spoke with Traci Brown, body language expert and author of Persuasion Point, about what she thinks of what wasn't so clearly said from the forum — the conversations that were happening between Middleton and Markle behind-the-scenes. Here are some of her insights she shared with us.
They're already two peas in a pod.
This shot shows Markle and Middleton with the biggest of smiles. If I'm not mistaken, that's the same kind of gaze I give my best gal pal when she's being her best self, or pizza when it's being delivered. Kate has that effortless glow that comes with being pregnant, and from my point-of-view, they just seem comfortable together.
According to Brown who analyzed by photo, it's pretty clear that these two are having fun together. She tells us, "The first thing that pops out to me is how much these two like each other! They're acting like old friends, having a great time." It certainly doesn't seem like there are any awkward silences.
There's a lot of care and understanding between the two.
Here the royals are a little more collected and passionate. They're talking the topics and explaining the efforts behind their charity work and togetherness. Markle appears to be intently listening, with her hands lying gently in her lap, while Middleton is much more expressive.
Brown says that this is a sign of care and understanding between the two. "We see genuine connection to each other from them both," she says. "See the way Kate looks at Meghan? It's like she really cares." When we care about people, we give them our undivided attention. As the newest member of the group, Markle is still learning the ropes, and Brown believes that Kate likes being her role model.
"I bet Kate is glad to finally have someone to share the 'new to the Royal family' ups and downs with! And I think Kate is taking Megan under her wing a bit," she continues.
This photo is a clear sign of friendship.
With Markle somewhat shyly putting her hand over her face, and Middleton gently laughing along, you can feel the light-hearted atmosphere radiate way past just that room.
According to Brown, this is all in new family fun: "We don't know what Kate said, but she embarrassed Megan a bit with her statement — see Megan covering her eyes and face? But they're still enjoying the moment."
With a lot more royal family events in their future, this is just the beginning for this new dynamic duo. The wedding will be here before we know it, and I'm wondering what these BFFs will do in the world next. Brown is certainly in support of whatever's to come from so much girl power. She tells Elite Daily, "They've already bonded and are thick as thieves! Are they the next Gail and Oprah? Could be! I think we'll all have fun watching these two in the years to come."
As for the the whole group dynamic? Their relationships are as strong as their body language signals. "Both couples are solid," Brown says. "We don't see wild swings in their day to day behavior or attraction to each other —isn't that refreshing?! Both couples move together as a unit in full support of each other as a team."
When it comes to leading a country, being a part of a family, or just life in general, it is important that we learn to be good team players. I think it's safe to say, Queen Clarisse Renaldi from The Princess Diaries would be proud of these almost-sisters, and the whole royal family squad for being such good examples and speaking with such lovely body language.