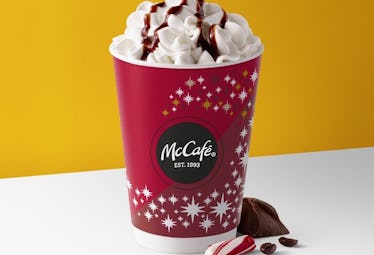 McDonald's New Holiday Cups Are Coming To McCafe & They're So Insta-Worthy
McDonald's
Now that November is here and the holidays are upon us, our favorite coffee spots are releasing their festive cup designs — including McDonald's. The fast food chain's McCafé cups are a pretty shade of red this season and feature some dazzling, celebration-worthy design elements. A press release obtained by Elite Daily announced that the McDonald's holiday cups are coming to participating locations nationwide on Wednesday, Nov. 6. Translation: They will be available so soon!
With a "Wonder in Every Sip" theme, the spirited two-toned red cups are bursting with holiday cheer you'll want to sip your morning coffee out of, no doubt. I mean, who wouldn't want a to-go cup that looks like its wrapped in silver twinkle lights? Aside from their eye-catching aesthetics, the special McDonald's cups have even more appeal for those who are just as environmentally conscious as they are coffee crazed. Why? Because they're Forest Stewardship Council (FSC) certified, aligning perfectly with the company's mission to have 100 percent of its fiber-based packaging come from "sustainable or recyclable sources."
McDonald's Holiday Drinks Are Back, Too
Besides new cups to serve your McCafé bevs in, McDonald's is also bringing back its holiday-inspired, peppermint-flavored drinks — the Peppermint Mocha and the Peppermint Hot Chocolate. For coffee lovers, the mocha is made with sustainably sourced espresso beans, milk, peppermint chocolate syrup, whipped topping, and chocolate drizzle. Meanwhile, the hot chocolate is a caffeine-free (yet still very delicious and sweet) drink made with all the same ingredients except, well, the espresso. And get this: For a limited time, you can get each of them for just $2 in a small size.
McDonald's senior director of McCafé Menu Innovation, Elina Veksler, spoke to the beverages' quality in a statement on behalf of the brand. She said,
These festive McCafé beverages deliver enticing flavors that are holiday favorites. For many, nothing comes before coffee – even during the holidays, which is why our Peppermint Mocha is made with café-quality espresso made from 100 percent Arabica beans. Our customers are sure to enjoy our delicious Peppermint Mocha and our other seasonal favorite, Peppermint Hot Chocolate.
The new drinks and cups announcement comes on the heels of McDonald's recent McCafé rebranding that brought about a rich lineup of espresso menu items including a very affordable Caramel Macchiato. To keep flavors consistent, the company fitted thousands of its restaurants with higher quality coffee makers, so the Peppermint Mocha is bound to taste just as good as your local coffee shop's — fear not!
You Can Have Them Delivered
Also, if you can't be bothered to hit up the drive-thru, McDonald's now has a McDelivery option on UberEATS. Does it sound too good to be true? Are you wondering whether the heavens are playing games with your coffee-obsessed heart? Well, it is true. McDelivery is a thing, and it applies to their seasonal beverages inside their seasonal red cups. As Andy Williams sings in his iconic Christmas tune, "It's the most wonderful time of the year!"
Even more brands are bringing out special cups to spread cheer. Starbucks debuted their customizable holiday cups on Wednesday, Nov. 1. The same day, Los Angeles coffee hot spot Alfred Coffee's limited edition coffee sleeve collaboration with nostalgic fashion and lifestyle brand Paul Frank was made available at all six of its locations. Basically, now's the time to double (maybe even triple) your coffee budget so that you can drink from all the different limited edition cups your heart desires! Frankly, McDonald's has me sold on their $2 Peppermint Mocha.
Check out the entire Gen Why series and other videos on Facebook and the Bustle app across Apple TV, Roku, and Amazon Fire TV.