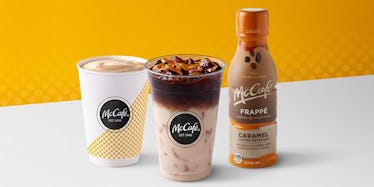 McDonald's Is Now Selling Caramel Macchiatos For A Price That's Too Perfect
McDonald's
McDonald's gave its McCafé a mindful makeover aimed at coffee lovers. The fast-food chain's U.S. stores will now offer a range of espresso drinks in addition to their previous options, enabling customers to order a breakfast combo and coffeehouse-level drink at the same time. But unlike trendy cafés, McDonald's is keeping its freshly-brewed drinks — caramel macchiatos, cappuccinos, and Americanos — affordable. Just how much will, say, McDonald's new Caramel Macchiatos cost, you ask? Well, the limited-time price tag is almost too good to be true... and yet, it is.
A Perfect Price
With other popular coffee spots, a daily caffeine habit can feel like a strain on your credit card, especially for those who prefer a shot or two of espresso to jolt them awake. However, there's good news: McDonald's new espresso offerings (made using 100 percent Arabica beans) won't have the same effect, because their caramel macchiatos, cappuccinos, and Americanos will only cost $2 for a small, the company announced in a press release. However, this price will last for a limited time.
Did the heavens just open up? Because, literally, a cup of drip coffee costs more at most places.
What's Different
To achieve a consistent, smooth flavor, McDonald's invested in new coffee makers. It has also updated its logo and branding, so ordering something from the McCafé alongside your go-to breakfast is going to feel like a whole new experience.
McDonald's USA President, Chris Kempczinski, described the brand's motivation to step up its coffee game in a statement. He said,
This is just the start of our McCafé commitment. We understand how important the coffee culture is for consumers and we are committed to meeting that demand at the taste, convenience and value only McDonald's can offer. This is a central part of our growth strategy and we can't wait to share what's next.
Spoiler: In the same press release, McDonald's announced that, in early 2018, it'll be launching a line of bottled McCafé Frappés in three tasty flavors (vanilla, caramel, and mocha).
I see you, McDonald's.