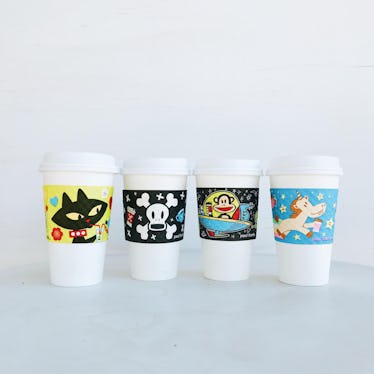 These Paul Frank Coffee Sleeves Will Give Your Morning Pick-Me-Up A Nostalgic Look
Paul Frank / Alfred Coffee
So, nostalgic '90s-era fashion and lifestyle brand Paul Frank and Los Angeles coffee hot spot Alfred Coffee have teamed up to create one-of-a-kind coffee sleeves you didn't know you needed. Really though, they're gorgeous. (Was it close-minded of me to think that coffee sleeves couldn't be pretty?) Featuring iconic Paul Frank characters — Julius the Monkey, Dazzle the Unicorn, Mika the Cat, and Skurvy the Skull and Crossbones — and the brand's signature bold color scheme, the Paul Frank coffee sleeves at Alfred Coffee are more like mini murals than heat absorbers. But there's a catch: These limited edition beauties are only available at Alfred Coffee locations. All of which are in Los Angeles, California.
Should you be based in sunny SoCal or have an upcoming getaway to the LA area planned, you'll be pleased to know that the Paul Frank coffee sleeves collab is available at all six Alfred Coffee locations starting Wednesday, Nov. 1. The colorful drink accessories will add a nostalgic look to your morning coffee run, and — more importantly — keep your hands from burning due to your piping hot brew.
According to a press release announcing the caffeinated news, these are the Alfred Coffee locations where you can get the Paul Frank x Alfred Coffee sleeves (that is, until they're gone forever at the end of November):
Beverly Hills
Brentwood
In The Alley at Melrose Avenue
Melrose Place
Silverlake
Studio City
You might be wondering if this news could get any better, my dear caffeine addicts. And yep, it actually does! In the same press release announcing the Paul Frank x Alfred Coffee sleeves, it was revealed that certain Alfred Coffee locations are taking the Paul Frank nostalgia to an even greater level... with murals on-site. Apparently, the mural — painted by outdoor media company Black Canvas LA — are "larger-than-life" and, of course, showcase everything we love about Paul Frank from the brand's overall aesthetic to the adorable characters and all the fun designs. (I am so jealous because my local coffee spot in New York City does not have a mural, let alone a Paul Frank-inspired one.) Per the press release, the Melrose Place, Silverlake, and Studio City locations are armed with the fancy murals, ready for your best Insta game.
By the way, it's totally okay to feel like an excited kid at the thought of Paul Frank coffee sleeves and murals right now. In fact, it's kind of the goal of the whole venture considering Paul Frank's number one motto is to "don't forget to never grow up." We won't, Paul Frank. We won't.
Both Paul Frank and Alfred Coffee shared the exciting month-long collaboration news on their respective Instagram pages. On Tuesday, Oct. 31, Paul Frank posted a snap of all the sleeves (photographed on cups for the full effect). The brand cutely captioned the photo,
Paul Frank has got your caffeine fix covered. Literally. Paul Frank x
Meanwhile, Alfred Coffee shared a similar photo, writing,
New collab alert. We're excited to be celebrating the month of November with the iconic @paulfrankpix!
November is already off to a good start, if you ask me. Los Angeles dwellers and visitors, don't miss your chance to sip your favorite coffee out of a cup dressed up in a limited edition Paul Frank x Alfred Coffee sleeve. Better yet, treat them like Pokémon and catch 'em all. I'll be over here in NYC feeling envious of your totally '90s coffee. Bye!
Check out the entire Gen Why series and other videos on Facebook and the Bustle app across Apple TV, Roku, and Amazon Fire TV.