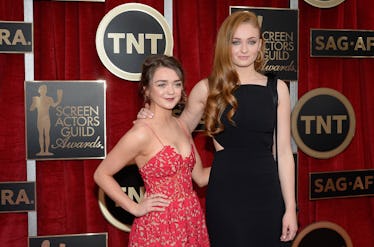 Maisie Williams' Message For Sophie Turner On Her Engagement To Joe Jonas Is So Sweet
Kevork Djansezian/Getty Images Entertainment/Getty Images
If another Jonas brother is taking himself off the market, I can't think of a better person to do it for than Sophie Turner. The Game of Thrones star and DNCE singer have been together almost a year, and on Oct. 15 they publicly announced their engagement. The couple has received an outpouring of support, but Maisie Williams' response to Sophie Turner's engagement was BFF goals.
Turner and Jonas were first seen out and about together in early November of 2016. They were spotted hanging out in Rotterdam, in the Netherlands. You know, when you're famous, you just casually hang out in different countries. The two were also seen together on Halloween shortly after.
Obviously, Turner and Jonas make a gorgeous couple, but there's something that we should be paying even closer attention to — Turner's relationship with her BFF and GOT co-star, Maisie Williams.
During an interview with Marie Claire in July, the 21-year-old actress revealed she is "very happy" with Jonas, but wishes people would stop calling them "Jophie" and talk about "Mophie" instead — aka her celebrity couple name with Maisie Williams. As it turns out, Turner and Williams are goals in every way possible. I mean, a fiancé is nice, but a lifelong bond with your ride or die is irreplaceable.
Williams' Instagram message to Turner was so, so sweet and definitely BFF worthy. She posted the same picture the engaged couple shared of Turner and Jonas holding hands (featuring Turner's giant rock). From one Stark sister to another, Williams said,
Congratulations to my beautiful girlfriend on her engagement. This is just one of MANY life milestones we'll share. Love you both #mophie #jophie #holymoly
I think the double-banded, pear-shaped diamond made us all say "holy moly," so Williams has the right idea. These two ladies are so close, they even have matching tattoos. Joe, why don't you show us your matching tattoo? OH YEAH, THAT'S RIGHT... YOU DON'T HAVE ONE.
Turner and Williams got inked together at the Northern Ireland tattoo parlor, Belfast City Skinworks, while filming in the area. It's no surprise the co-stars are so close. I mean, Turner and Williams have spent one third of their lives playing Sansa and Arya Stark — that's a lot of time on set together.
The fame has definitely taken a toll on Turner. She admitted to Marie Claire, "You do feel like you're living in a fishbowl." When asked how she felt about fans trying to sneak pictures of her, she was not shy to admit that she finds it R-U-D-E. She said,
I find it really rude, and I will be rude back. It's such an invasion of privacy. I could be out with my mum on her birthday and I will ask them to delete it. I would much rather them come up and ask for a photo. I will probably be fine with it… unless I look shit!
Don't mess with Sophie Turner. I do hope she and Jonas can enjoy a quiet engagement. It seems the less celebrities leave open for interpretation (that are-they-or-aren't-they game), the less time they're in the headlines. Either way, they have a lot of support.
Other family members are extremely excited about the engagement. Brother Nick Jonas tweeted out the same engagement picture with the caption,
Ahh! Congratulations to my brother... and sister in law to be on your engagement. I love you both so much.
And we love you, Nick. *Cough, cough* I mean, your bro and new sister-in-law love you.
Even Mama Jonas had some very sweet words to share. She posted a picture on Instagram with Papa Jonas and Frankie, the youngest Jonas brother. The caption read, "celebrating my newest daughter, love you with all my heart @sophiet." Sounds like Turner is going to have some amazing in-laws.
It's great to see so much love and support is being offered to Turner and Jonas. Congrats, you two. I literally cannot wait until the wedding.
Check out the entire Gen Why series and other videos on Facebook and the Bustle app across Apple TV, Roku, and Amazon Fire TV.