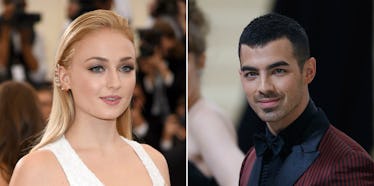 Sophie Turner & Joe Jonas Have Been Together Longer Than You Think
Dimitrios Kambouris/Getty Images / John Lamparski/Getty Images
Congrats to the happy couple! Sophie Turner and Joe Jonas announced their engagement via the world's sweetest (and classiest) Instagram pic on Oct. 15, and everyone is freaking out. But if you feel like you only just found out they were together, well, you're not alone. So how long have Sophie Turner and Joe Jonas been dating? Pretty much the perfect amount of time.
The couple have been together for just about a year, according to the first sightings of the two out and about. The pair were first seen together back in early November of 2016, when they were spotted hanging out in Rotterdam, in the Netherlands. And on Halloween that same year, they both appeared — suspiciously close together, but not actually touching — in a squad pic, with Jonas dressed as a dog and Turner as a rabbit. Cuuuuute.
Back in January, Turner teased us all when Mario Lopez interviewed her at the Golden Globes, when she played coy about her new honey. When asked about Jonas, she said,
Well, I'm not saying anything. I'm very happy. ... I don't know who you're talking about, really.
And she continued on about her dress,
This is Louis Vuitton by Nicolas Ghesquière, head to toe basically. And the engagement ring there isn't an engagement ring.
Well, it sure is now.
As exciting as it is, it's about par for the course for the two.
The pair apparently got relatively serious relatively fast, with Turner meeting the relatives as Jonas' date at a wedding in Malibu in late November (only about four weeks after they were seen together for the first time). The pair hit up the photo booth and took some snapshots with younger Jonas brother Nick and a passel of friends. She also (probably) met the rest of the fam on a skiing trip in Mammoth Mountain Park in California the same weekend.
And then, back in early September. the two made the big leap — the one there's no going back from. The one that mean Things Are Serious.
That's right, they got the dog.
I mean, the ring is probably a bigger turning point, but not by much.
Since the pair announced the engagement with matching Instagram posts — each posted the same photo, with Jonas' caption reading "She said yes," while Turner's said, "I said yes," and it seriously could not be cuter — their friends and fam have been congratulating the two on social media.
Brother Nick Jonas tweeted out the engagement pic again with the caption, "Ahh! Congratulations to my brother... and sister in law to be on your engagement. I love you both so much." And momma Denise Jonas posted a pic to Instagram with the caption, "celebrating my newest daughter, love you with all my heart @sophiet."
And as everyone knows, once you're in with Mom, you're golden.
And now, we have an abundance of Game Of Thrones weddings to look forward to!
Turner, who embodies the ever-amazing Sansa Stark on the show, is the third GoT star to announce her engagement in recent weeks. On Sept. 27, fellow star Kit Harington, who plays Turner's brother-cousin-King-in-the-North Jon Snow, also announced he was engaged, to fellow GoT alum and on-screen flame Rose Leslie, who played the wildling Ygritte in Seasons 2-4.
No mere Instagram post for those two, though — Harington and Leslie went full British propriety for their announcement and took out an advertisement in The Sunday Times.
With rumors that Season 8 of Game of Thrones, which is due to start filming any day, could shut down to accommodate Harington's wedding, it looks like Turner and Jonas might have a nice long break to plan their own nuptials. Harington told producers that the show's cast "has got to be there" and so, they'd better factor that into the filming timeline. Though seriously, what they're thinking inviting Lannisters to a wedding, I don't know.
Turner and Jonas don't appear to have set a date yet, but it's possible that they'll take advantage of any break in filming as well. Congrats, and if the wedding band starts playing The National — run.