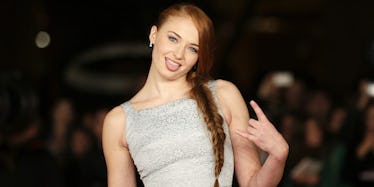 'Game Of Thrones' Star Sophie Turner Talks Joe Jonas And Her 'Engagement Ring'
REUTERS
Sophie Turner is being entirely too coy when it comes to dishing about her life with new beau, Joe Jonas.
It was a big night for the "Game of Thrones" star.  Though she and her show came home empty handed from the 74th Golden Globes, the night had deeper significance to Sansa, as it was the first major public event she was able to show off Jonas.
Mario Lopez caught up with the 20-year-old on the red carpet to talk about her dress, her boy and all the other things about Hollywood's sloppiest night. (THERE! I SAID IT! THE GOLDEN GLOBES AWARDS ARE A SLOP SHOW! AN ENTERTAINING SLOP SHOW, BUT A SLOP SHOW NONETHELESS!)
You can check out the interview over here:
OK, so, we aren't getting dating info out of Sophie, got it?
When asked about Jonas, Turner told Lopez,
Well, I'm not saying anything. I'm very happy.
Then she added,
I don't know who you're talking about, really.
When asked about her outfit, she did say something that made us all perk up:
This is Louis Vuitton by Nicolas Ghesquière, head to toe basically. And the engagement ring there isn't an engagement ring.
WHAAAAAA?!?!?! UHHHH, NOBODY SAID THE WORD ENGAGEMENT, SOPHIE! What are you hiding?!?!?!?!?!
She and Jonas, who is currently the D.N.C.E. front man, reportedly got super smooch-y at the event and HBO's after party. The couple reportedly left the venue together along with fellow "GOT" cast mate, Maisie Williams.
Before the show, the couple went to CAA's pre-Golden Globes party together, where one inside source told US Weekly,
They were joined at the hip
The two have only been going out for a few weeks now. The couple only recently made the relationship Instagram official, an act that is legally binding in some courts.
This is the birth of SoeJoe.
Citations: Sophie Turner and Joe Jonas Pack on the PDA at Golden Globes Afterparty (Us Weekly), Sophie Turner Is 'Happy' with Joe Jonas Relationship (Extra)